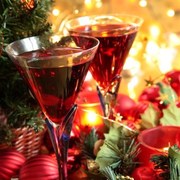 Photo: Getty Images
Holiday punch recipes with alcohol are plentiful, creative and delicious. While many people prefer martinis, punch has been a mainstay of holiday celebrations for as long as most of us can remember.
The beauty of the drinkability of punch, the way it lends itself to so many fresh ingredients and fruits as well as fruit juice, makes punch a pleasure for the palate as well as the nose and eye. For further reading on holiday punch recipes with alcohol see the sources at the end.
Please keep in mind that any of these can be made without alcohol. Also remember to use alcoholic beverages in a responsible manner and to consider a designated driver if you will be away from home.
INGREDIENTS:
1 pint vodka
1 pint bourbon
2 pints cranberry or cranapple juice
2 quarts ginger ale
16 ounces frozen lemonade, undiluted
16 ounces frozen orange juice, undiluted
PREPARATION:
Mix everything together except ginger ale, and add it just before serving. Serve over ice block.
This recipe from CDKitchen for Christmas Punch serves/makes 12
INGREDIENTS:
1 pint rum
2 bottles (750 ml size) champagne
3 cans (6 ounce size) frozen lemonade concentrate, thawed
6 cans (12 oz. size) ginger ale
PREPARATION:
Combine rum, champagne, lemonade concentrate and ginger ale in a large container and mix well. Freeze until firm. Thaw slightly before serving.
NUTRITION:
218 calories, 0 grams fat, 26 grams carbohydrates, 0 grams protein per serving. This recipe is low in sodium. This recipe is low in fat.
This recipe from CDKitchen for Champagne Slush serves/makes 18
Hot Gingerbread Punch
Dark beer, dark rum, and lots of spices give this hot punch its distinctive gingerbread taste. A dollop of whipped cream and a sprinkling of ground cinnamon complete this homage to the classic Christmas treat.
8 servings
PREP: 20 minutes
TOTAL: 9 hours
Recipe by St. John Frizell and Andrew Knowlton
December 2010
INGREDIENTS:
3 cups water
2 12-ounce bottles Guinness stout
3/4 cup sugar
1/2 cup finely chopped peeled fresh ginger
12 whole cloves
3 cinnamon sticks, broken in half
3 whole cardamom pods, cracked
1 orange
1 1/2 cups dark rum (such as Gosling's)
Lightly sweetened whipped cream
Ground cinnamon
PREPARATION:
Combine first 7 ingredients in large saucepan. Using vegetable peeler, remove peel from orange in strips (orange part only) and add to stout mixture. Bring to simmer over medium heat, stirring until sugar dissolves. Simmer over medium-low heat 15 minutes. Remove from heat and let stand 15 minutes. Strain liquid into bowl; discard solids in strainer. Cover and refrigerate punch at least 8 hours or overnight.
Combine chilled punch and rum in large saucepan and bring to simmer over medium-low heat. Pour hot punch into small teacups or large demitasse cups. Top with whipped cream and cinnamon.
Nutritional Information
One serving contains:
Calories (kcal) 129.7
%Calories from Fat 0.0
Fat (g) 0.0
Saturated Fat (g) 0.0
Cholesterol (mg) 0
Carbohydrates (g) 20.1
Dietary Fiber (g) 0.1
Total Sugars (g) 18.9
Net Carbs (g) 20.0
Protein (g) 0.1
Sodium (mg) 1.0
Read More:
http://www.bonappetit.com/recipes/2010/12/hot_gingerbread_punch#ixzz1e56ld1Ze
Sources:
Bonapetit
Retrieved from the internet on November 18, 2011
http://www.bonappetit.com/ideas/holiday-punch-recipes/search
Cdkitchen online. Punch with alcohol recipes
Retrieved from the internet on November 18, 2011
http://holidays.cdkitchen.com/recipes/cat/635
Aimee Boyle is a regular contributor to EmpowHER
Edited by Jody Smith