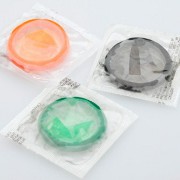 Photo: Getty Images
When people refer to "old reliable" it usually means someone or something that they can depend on. Based on studies and information available, one could dub condoms or rubbers with that nickname. It is one of the cheapest and easiest ways to fight STDs and/or HIV. The success rate for birth control for condoms is 85 percent.
That's not to say that condoms are failsafe. We've all heard of them slipping off, falling into the vagina or actually breaking. Research indicates that rubbers slip off 1-5 percent of the time during vaginal intercourse. It is found that they slip off because the condom may be too large or the loss of erection. Two condoms out of 100 will break due to the condoms itself. More specifically, breakage happens when the rubber may be too old, have been stored improperly, lubrication is not used, the wrong kind of lubricant is used (lubricants containing oil such as Vaseline or baby oil weaken the rubber); when the rubber is too small or too tight, or your partner may be too tight (use extra-strength condom or more lubricant). Since it seems that some are having problems, what is the proper way to put on one on? Avert.org gives the following directions:
"Condoms must be used consistently and correctly to provide maximum protection. Consistent use of condoms means using a condom from start to finish with each act of intercourse. Correct condom use should include:
"Use a new condom for each act of intercourse
"Put on the condom as soon as erection occurs and before any sexual contact
"Hold the tip of the condom and unroll it onto the erect penis, leaving space at the tip of the condom, yet ensuring that no air is trapped in the condom's tip
"Adequate lubrication is important, but use only water-based lubricants on latex condoms.
"Withdraw from the partner immediately after ejaculation, holding the condom firmly to keep it from slipping off."
There once was a time when actual laws were enacted to prevent the sale and delivery of this product. At present, however, you can purchase condoms openly and without condemnation from others. In fact, you'll probably get a look of approval for being responsible. Even if you want different sizes or desire rubbers of a certain type of material, of various colors or even flavors -- it's not a problem. So even though there are many other birth control methods, it would seem that "old reliable" ain't going anywhere soon.
Resources:
Condoms: Effectiveness, History and Availability
Avert.org
http://www.avert.org/condoms.htm
Sexual Health, Birth Control, and Condoms
WebMD
http://www.webmd.com/sex/birth-control/birth-control-condoms?page=2
Reviewed August 16, 2011
by Michele Blacksberg R.N.
Edited by Jody Smith
Dita Faulkner is a freelance writer and avid blogger. Check out what she has to say at: http://redtoenails.wordpress.com/
Tags: