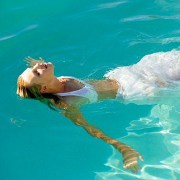 Photo: Getty Images
According to the Centers for Disease Control and Prevention, more than 1.3 million adults are affected by rheumatoid arthritis (RA). Women are two to three times more likely to have RA than men. Rheumatoid arthritis (RA) is an inflammatory disease which affects the joints and RA can lead to chronic pain, loss of joint function and deformity.
There is no cure for RA. However, one study revealed that approximately 75 percent of people with RA experienced remission after five years. In addition to medications and surgery, there are also several home remedies to reduce the pain and discomfort of RA. Here are several examples:
Borage seed oil
Studies revealed that borage seed oil, along with anti-inflammatory painkillers, can reduce RA symptoms. Also, findings revealed a reduction in tender and swollen joints after six weeks. Borage seed oil appears to be safe but may have some minor side effects. Those may include diarrhea and bloating.
Fish oil
Omega-3 fatty acids in fish oil have an anti-inflammatory effect in the body. Studies have shown fish oil supplements may help reduce morning stiffness. Also, omega-3 fatty acids in fish oil help protect against heart disease. RA patients are at a higher risk of developing heart disease.
Thunder god vine
Studies have shown patients taking thunder god vine had a decrease in pain and tender joints. Currently, there is a large government-funded study comparing thunder god vine and traditional medicines for RA. Pregnant women should not take thunder god vine because it may cause birth defects.
Cold and heat treatments
Cold treatments have been known to reduce swelling and inflammation. Apply cold packs directly to the affected area. For acute pain, one recommendation is 20 minutes on and 20 minutes off, 2-3 times per day. Also, heat may be useful for chronic pain. Heat increases blood flow and relaxes the muscles. Heat should be applied in the morning as ice produces stiffness.
Exercise
Exercise increases physical function and reduces arthritis pain. The overall movement of joints and muscles improves your overall fitness level and can decrease RA pain. Walking is an easy and safe way to start reducing pain. Also, the CDC recommends water aerobics.
Massage
Massage can relax your muscles and provide some relief of arthritis pain. Treat yourself to a massage but be sure to inform the massage therapist of your RA. Let the therapist know which areas of your body are sensitive.
Acupuncture
Acupuncture is the practice of inserting fine needles into the body along points called "meridians" to relieve pain. Stimulating the meridians may alleviate pain. Ask your friends and family for a recommendation of an acupuncturist in your area. Inform the person doing the procedure about the areas where you have pain.
Sources:
http://www.cdc.gov/arthritis/basics/rheumatoid.htm
http://www.arthritistoday.org/conditions/rheumatoid-arthritis/pain-and-fatigue/non-drug-ra-pain-relief.php