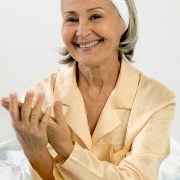 Photo: Getty Images
The goal of treatment for rheumatoid arthritis (RA) is remission, according to Dr. Rania M. Shammas and colleagues at the University of California, Los Angeles.
"Current treatment aims to control the disease, not cure it," they noted. The mechanism for the autoimmune process is not known, so there are data in the literature to support the continuation of medication even when symptoms are not present. "The concept that remission in RA should require a disease-free state after the discontinuation of medication is debatable," Shammas reported.
There are many drugs available for treating rheumatoid arthritis, and it is common to use combinations of drugs. Dr. Moetaza M Soliman and colleagues at the University of Manchester, UK, performed a study of anti-TNF drugs used in combination with disease-modifying anti-rheumatic drugs (DMARDs). Since it would be very expensive to do a large randomized trial, these researchers used an observational approach. They identified 10,396 patients taking anti-TNF therapy either alone or in combination with DMARDs. Over the course of five years, 58 percent of the patients discontinued anti-TNF therapy because of safety issues, or lack of effectiveness, or a combination of these factors. The researchers analyzed discontinuation rates for different drug combinations.
The anti-TNF drugs were etanercept (Enbrel), infliximab (Remicade), and adalimumab (Humira). Each patient took only one of these, and had never taken any other anti-TNF therapy. The DMARDs were methotrexate, sulfasalazine, hydroxychloroquine, and leflunomide. The results were as follows:
1. The best results were for an anti-TNF drug plus methotrexate plus sulfasalazine or hydroxychloroquine or both. Patients on one of these combinations had the highest rates of staying on their medication regimen.
2. An anti-TNF drug plus methotrexate gave intermediate results.
3. An anti-TNF drug alone, or in combination with sulfasalazine or leflunomide (with no methotrexate) gave the worst results, with the highest rates of patients discontinuing the regimen.
Soliman and coauthors concluded that patients taking DMARD therapy that includes methotrexate should continue these drugs when they start taking anti-TNF drugs. Patients taking leflunomide or sulfasalazine as monotherapy may get better results if they discontinue these drugs before starting anti-TNF therapy, with the possible exception of sulfasalazine plus etanercept.
References:
1. Shammas RM et al, "Remission in rheumatoid arthritis", Curr Rheumatol Rep 2010; 12: 355-62.
http://www.ncbi.nlm.nih.gov/pubmed/20697983
2. Soliman MM et al, "Impact of concomitant use of DMARDs on the persistence with anti-TNF therapies in patients with rheumatoid arthritis: results from the British Society for Rheumatology Biologics Register", Ann Rheum Dis 2011; 70: 583-89.
http://www.ncbi.nlm.nih.gov/pubmed/21330639
Reviewed June 30, 2011
by Michele Blacksberg R.N.
Edited by Alison Stanton
Linda Fugate is a scientist and writer in Austin, Texas. She has a Ph.D. in Physics and an M.S. in Macromolecular Science and Engineering. Her background includes academic and industrial research in materials science. She currently writes song lyrics and health articles.
Tags: