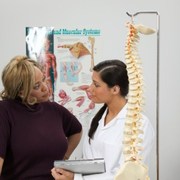 JupiterImages/liquidlibrary/Thinkstock
High heels, a long walk to the office and some extra weight on my hips irritates and activates my sciatic nerve. This three-quarter inch in diameter nerve can wreak havoc on my lower back.
My sciatic nerve can throw me into the back seat of pain at a moment's notice. No warning, and Wham-O! Instant pain in my butt (pun intended).
One of the reasons for such a large area of pain is because the sciatic nerve is the largest and longest nerve in the body. It reaches from your lower back to your toes.
This makes daily activities like walking, standing and even sitting very difficult. There is nothing more painful than sitting in a chair at work with sciatica when you'd rather be lying down in your bed at home.
After experiencing my first case of sciatica, I contacted a chiropractor in Chicago. For $295 dollars, he did take some X-rays and checked out my spine. He was very thorough in his full medical work-up.
He also noticed in my X-rays that I need to "look with my chin." This meant I have a tendency to look down a great deal and this was causing some tension on my neck. But, that is another health column.
My chiropractor said my sciatica was possibly caused by a muscular issue called piriformis syndrome.
The piriformis muscle is above the sciatic nerve. The piriformis muscle begins at the spine (lower area) and is attached to the thighbone, which in turn assists with the rotation of my hip. On occasion, my piriformis muscle becomes inflamed and presses on my sciatic nerve and -- voila! -- instant pain.
I am not sure if my primary physician would have been able to quickly diagnose my condition. But, my chiropractor has many professional athletes on his patient roster and was able to diagnose my situation right away.
My chiropractor also stated he saw this type of condition with many runners, which is odd because the only things I run to are a sale at the department store or if I am late for my train.
My chiropractor recommended some stretches for my piriformis muscle, ice therapy and two to three adjustments per week.
These stretches were great as they opened up my hip muscles as well. For the type of recommended stretches you can go to:
http://www.spine-health.com/wellness/exercise/exercise-sciatic-pain-piriformis-syndrome/
I applied ice four to six times per day, for 20 minutes on and 20 minutes off. This also provided great relief.
Please double-check with your doctor before you perform these stretches and any other type of therapies for your sciatic nerve.
All in all, my experience with a chiropractor for my sciatica was very positive. What do you do for your sciatica?
References:
6 Leading Causes of Sciatica. Back Pain, Neck Pain, Sciatica - Symptoms Exercises Treatments Causes. Retrieved May 7, 2012, from http://www.spineuniverse.com/conditions/sciatica/6-leading-causes-sciatica
Do Chiropractic Appointments Help With Sciatica? | LIVESTRONG.COM. LIVESTRONG.COM - Lose Weight & Get Fit with Diet, Nutrition & Fitness Tools | LIVESTRONG.COM. Retrieved May 7, 2012, from http://www.livestrong.com/article/521051-do-chiropractic-appointments-help-with-sciatica
Sciatic Nerve and Sciatica. Back Pain, Neck Pain, Sciatica - Symptoms Exercises Treatments Causes. Retrieved May 7, 2012, from http://www.spineuniverse.com/conditions/sciatica/sciatic-nerve-sciatica
The Truth About Sciatica. Back Pain, Neck Pain, Lower Back Pain | Spine-Health. Retrieved May 7, 2012, from http://www.spine-health.com/conditions/sciatica/truth-about-sciatica
Reviewed May 7, 2012
by Michele Blacksberg RN
Edited by Jody Smith
Tags: