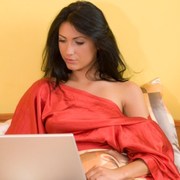 Hemera/Thinkstock
You and your high school sweetheart decide to go to different colleges but still remain a couple. You feverishly write letters (okay, I'm dating myself) and send emails, talk on the phone for hours, send each other care packages with your beloved's favorite cookies, stuffed animals, books, artist's prints nestled within.
Or, your significant other is in the military. They leave for weeks and sometimes months or years at a time. You do the best you can to inform them of the happenings of daily life, the lives of your family, your children, your community; but you miss and crave that face time, the ability to talk, to hold each other, to have intimate and visceral moments together.
You meet the perfect partner on an online dating site. Having been open to anyone matching your fundamental criteria, you are now hopelessly, madly, deeply in love with a gorgeous red head who lives 2,000 miles away. Each time you max out your credit card for plane tickets and a luxurious four days together, you feel excited, renewed, charged up -- but how long can you keep this up? What about the time apart?
The age-old question of maintaining intimacy miles apart has never been more relevant than it is today, or more solvable. Never before in the history of our human culture have we had so many viable options when it comes to engaging in personal and intimate acts with your lover even if you are long-distance.
When the pioneers were traversing the terrain of the "New Country" and leaving loved ones behind to fetch months later, they would often return to find them gone or no longer alive. There was little or no communication and, even in my young adulthood, phone sex was just about the naughtiest, most edgy thing you could possibly do to fulfill your long-distance cravings.
Not so today. As most computers have built-in cameras, the ease of setting up a face-to-face, face-to-body (use your imagination here) is hard to ignore. Lovers can watch each other undress slowly, let their fingers do the walking and so much more. The opportunity to actually see your significant other in real-time makes long-distance sex much more accessible than ever before.
True, there is no actual skin-to-skin contact -- but hey, you can't have everything!
Other tried and true methods of long-distance sex include phone sex, watching porn at the same time, and instant messaging each other with lustful words by the dozen.
Finally, whether you're new to the sex toy world, or you are an old hand (pun intended), there are sex toys that you can use and that your partner controls online. That's right. Your partner can watch as you become stimulated through their actions while you Skype each other. These are called Teledildonics, and they apparently work very, very well.
Whatever you do long-distance, always remember to protect your privacy, and be safe, sane and consensual. Know that anything you record may not be private forever, and keep your relationship in the foreground, prioritizing mutual comfort, satisfaction and emotional safety.
Sources:
Tell Me About Teledildonics
August 3, 2011 in The Frisky Feminist
Persephone Magazine
Retrieved from the internet on March 11, 2012
http://persephonemagazine.com/2011/08/tell-me-about-teledildonics
How To Keep Your Long Distance Relationship Smioking Hot
By Susan Walsh June 22, 2009
BlogHer
Retrieved from the internet on March 11, 2012
http://www.hookingupsmart.com/2009/06/22/relationshipstrategies/how-to-keep-your-long-distance-relationship-smoking-hot/
Aimee Boyle is a regular contributor to EmpowHER
Edited by Jessica Obert