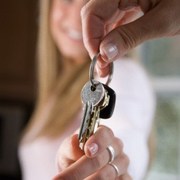 Jupiterimages/Photos.com/Thinkstock
You go to a party with your significant other. As you enter, you drop your car keys into a hat that the hostess holds in the foyer. You mingle and toast, chatter and eat, dance and strike up conversations with old friends and new acquaintances.
Then you take the arm of someone you've seen a grocery store a few times, get into his car, and go home with him to make love. He's not the person you came to the party with.
Your lover/spouse/partner is not going home alone, however. He/she is leaving the party with someone decidedly different than you, and, presumably, will enjoy every minute of it.
Is this some kind of science fiction romance novel or a soft-porn letter to an erotic publication? Neither. In fact, in the 1997 movie "The Ice Storm" http://www.imdb.com/title/tt0119349/ the issue of engaging in a "swinging lifestyle" was explored by showing the viewer a glimpse into a "swingers party" circa 1973, in Connecticut, which opens just as I have described above.
So what is the swinging lifestyle exactly? Is it an alcoholic frenzy in which people sleep with their friends' partners and their friends sleep with their partners? Is it a fad that came and went in the 1970s leaving in its wake an epidemic of divorce and dissatisfaction, broken homes and lost kids?
Or is it a valid form of sexual exploration, allowing people to have some variety in the bedroom, cementing a marital commitment by taking away the need for stifling, possessing or "owning" the other person?
Certainly this lifestyle is still in existence and did not fade away after the 1970s.
While opinions vary, one aspect of the swinging lifestyle that couples find attractive is that takes away the problem of cheating or adultery. In swinging, all adults are aware of the activities of the other.
There is no sneaking around or hiding. In fact, some couples do all of their swinging together. They see it as a bonding experience and don't even date outside of their marriage.
For the most part, swingers engage in social activities with other swingers prior to getting into sexual activity. In general, the scene from "The Ice Storm" is not that far off the mark, even today.
Swingers go to designated swinger parties, have fun with friends, and then either at the party or at someone's home, they engage in sexual activity with someone other than their significant other.
Some swingers like to watch each other in these situations and others don't. Some engage in a switching of partner while others have threesomes, foursomes, and even group experiences.
Whether or not you're suited to the swinging lifestyle is completely based on your own psychological make up, your sexual preferences and, of course, the level of trust, honesty, love and communication you have in your primary relationship. First and foremost, sexual activity of any kind should always be safe, sane and consensual.
Sources:
Sexual Health Community
WebMD
Retrieved from the internet on February 20, 2012
http://forums.webmd.com/3/sex-and-relationships-exchange/forum/3182/8
Information and introduction to the Swinging Lifestyle
Salem Swingtime Dance
Salemdance.com
Retrieved from the internet on February 20, 2012
http://www.salemdance.com/lifestyle.htm
Aimee Boyle is a regular contributor to EmpowHER
Edited by Jody Smith