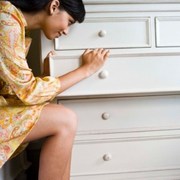 Photo: Getty Images
Toys are not just for children, oh no. In the boudoir now, more than ever, a whole range of adult toys are available for the sexually daring and even just the sexually playful. Everything from dress-up to giddy-up, naughty school girls or leather-clad task masters, whips, crops, bridles and bits and yes, vibrators.
Vibrators have made their way into the mainstream culture too. I sometimes cringe during episodes of 30 Rock, or Two and a Half Men, half a dozen movies and of course the ubiquitous gossip rag at the nail salon as they discuss celebrities and their vibrators or various compromising situations.
When I was a (not particularly sexually adventurous) adolescent, I remember hearing stories of people's mothers having vibrators hidden in their bedclothes or tossed about embarrassingly when the "cleaning lady" came for the day. In fact, it seemed "vibrators" and "mothers" went hand-in-hand like a pre-Wisteria lane 1980's version of some wacky, sexed-up housewife show.
Yet somewhere along the line, as our cultural mores have switched to include more soft porn imagery than ever before, slipping in a vibrator joke during a prime time sitcom has become more the norm than the perverse.
How many of us actually use them? That is a conundrum. Are we, a la Sex In the City characters, talking a big a story and still manually pleasuring ourselves before drifting off to sleep, or are we lusty, adventurous, with a tiny little vibe in our purse for the boring meeting at work and a nicely-kept collection at home to use alone or in the company of our sexy partner?
Tough to say.
How does one even use a vibrator?
Let me begin by saying this is certainly one area in your life in which you should NOT judge yourself or think there is ONE WAY to do it correctly. Orgasm is a great result but simply letting the vibrator relax you, pleasure you and enable you to feel good is more to the point.
The point is, there is no point other than enhancing your ability to unwind, relax and feel fantastic. Since vibrators come in so many shapes and sizes, and since there are so many available on the internet, you can feel comfortable looking at them from the privacy and comfort of your own home.
Vibrators can be inserted, or can be tiny and just used on the outer portions of your body. Setting aside some quiet time to explore and relax will help you de-stress and get into the mood.
For more, follow the links below.
Sources:
How To Use A Vibrator
Babeland.com
Retrieved from the internet on February 6, 2012
http://www.babeland.com/sexinfo/howto/howtouseavibrator
How Do I Use A Vibrator To Give Myself An Orgasm?
Howtouseavibrator.com
Retrieved from the internet on February 6, 2012
http://howtousevibrators.com/orgasm.html
Aimee Boyle is a regular contributor to EmpowHER
Edited by Jody Smith