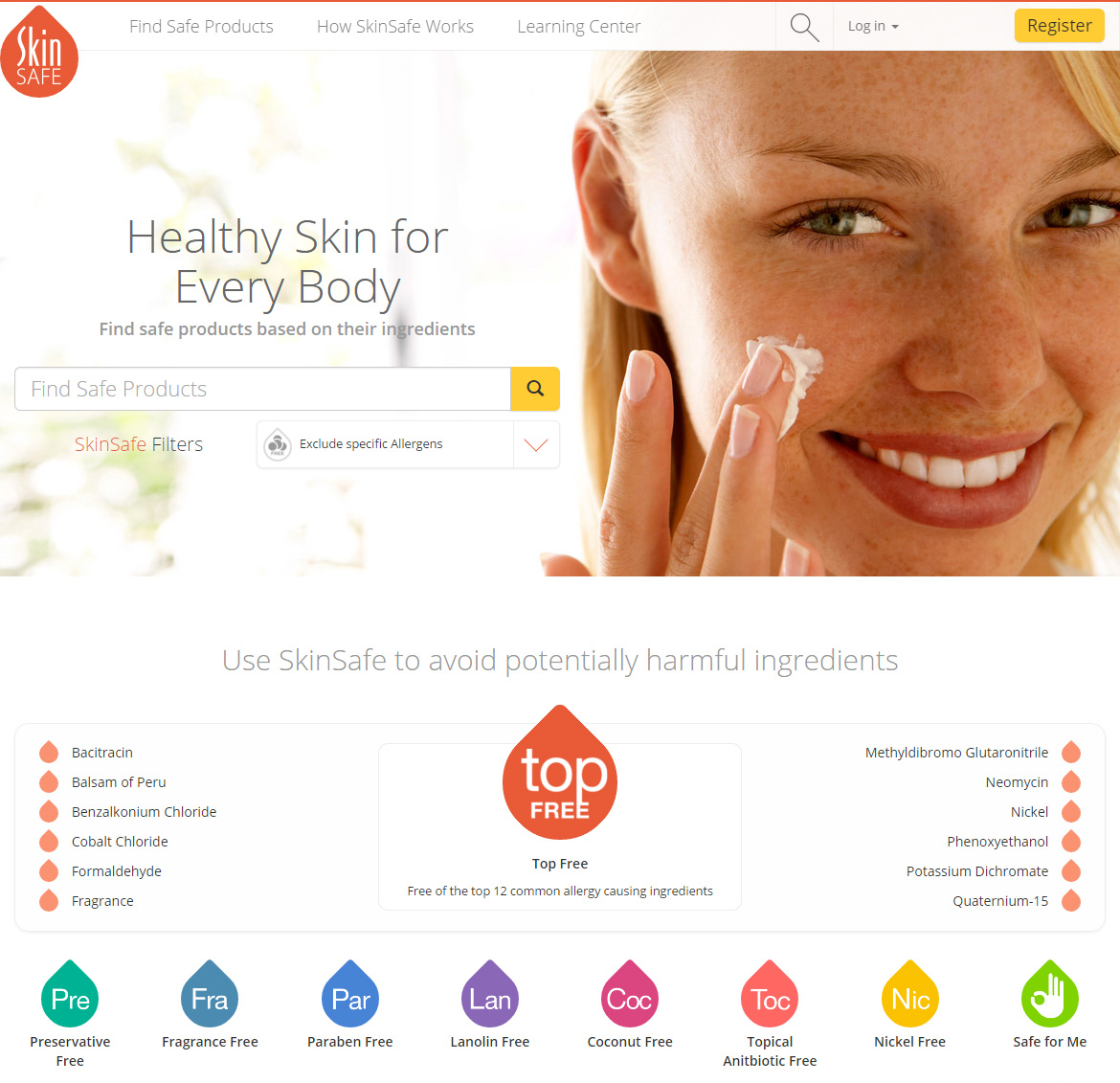 It has happened to all of us. You use a product that looks wonderful on the shelf and the next thing you know, you are having a skin reaction to it.
There are a number of chemicals you may be sensitive to but what should you do next? Will another product be any better?
Enter SkinSAFE, a new web and phone app jointly designed by Dr. James Yiannias and EmpowHER. Dr. Yiannias is a Board Certified Dermatologist and Associate Professor of Dermatology who has been practicing at the Mayo Clinic College of Medicine, Scottsdale, AZ for over 20 years.
He had been troubled by how difficult it was to help patients track allergens that were causing flare-ups of their eczema and contact dermatitis.
Yiannias would spend large amounts of time reviewing the specific chemical offenders that caused allergies with his patients but they would roll their eyes, overwhelmed with the long names and potential alternate names.
"It was just too much for people to handle," he said.
Yiannias tried to find a ready-made database of these chemical allergens to help his patients but he could not find one. Instead, he created one named "CARD" for Contact Allergen Replacement Database.
The CARD system has been utilized by the Mayo Clinic for many years and was started by manually entering 5,000 products. A couple of years ago it was made into a phone app so that patients could utilize it when shopping for products to avoid their known allergy offenders.
However, patients cannot use CARD without a dermatologist inputting data about the patient's known allergies. This is where the new SkinSAFE app will differ from the CARD app.
Currently, known allergies are determined by patch testing, which involves placement of suspected allergen samples against the skin on one's back for three days then observation for two days with no showering allowed in between.
Our own Michelle King Robson went to see Yiannias for an eczema problem. He described the process to her and she replied, "You're kidding, I don't have time to do that with my schedule!"
Without patch testing it is very difficult to determine what the actual allergens are. Yiannias said, "Even with over 20 years of experience, without patch testing, I can only determine allergens accurately 30 percent of the time."
However, he went on to say, "Most people really don't need this type of testing. They can do a lot to manage their allergies without it."
The SkinSAFE app was born out of these discussions between Yiannas and Michelle King Robson to meet the need for a more consumer-friendly app to manage skin reactions, and one that did not require the help of a doctor.
SkinSAFE will harness the knowledge and power that was derived from the CARD program and years of research by the Mayo Clinic that is user-friendly for consumers.
SkinSAFE is a scope change to focus overall on the improving the health of the entire population. It will help thousands people reduce skin reactions so they are better able to help themselves.
People can be empowered by using data that the Mayo Clinic has spent years gathering right from their own smart phone or ipad. The SkinSAFE app will be loaded with the names of the top 10 allergy producers compiled from the years of testing by the Mayo Clinic.
Consumers can photograph the product's ingredient list or the UPC bar code on the bottle to help the app search for the item. It will be compared to the database inside the app to determine whether it has an ingredient that is one of the known 10 offenders.
Then the app will recommend products that are similar to the one the person entered that have been found to really be hypoallergenic and dermatologist-tested, not just labeled as such as a marketing ploy.
This way a person can try and solve a potential allergy problem by steering clear of similar products they might just randomly try while looking for a new solution.
SkinSAFE is planned to have a larger database than the original CARD system and will be expanded to include other types of products.
If the person continues to have problems despite using the SkinSAFE app then they can seek the help of a dermatologist.
Using the information from the app they can tell the dermatologist what products they tried and what happened. They can even photograph their skin reactions to show the doctor.
It is anticipated that the SkinSAFE app will be available by the end of 2014.
For more information on SkinSAFE, please visit http://www.skinsafeapp.com/.
Sources:
Phone interview with Dr. Yiannis, Oct 29, 2014.
Contact Dermatitis: A Major Occupational Health Problem. Proteque.com.
http://www.proteque.com/documents/report.htm
Skin Allergies. American College of Allergy, Asthma & Immunology. Retrieved November 1, 2014.
http://www.acaai.org/allergist/allergies/Types/skin-allergies/Pages/defa...
Michele is an R.N. freelance writer with a special interest in woman's healthcare and quality of care issues. Other articles by Michele are at http://contributor.yahoo.com/user/499625/michele_blacksberg.html
Edited by Jody Smith