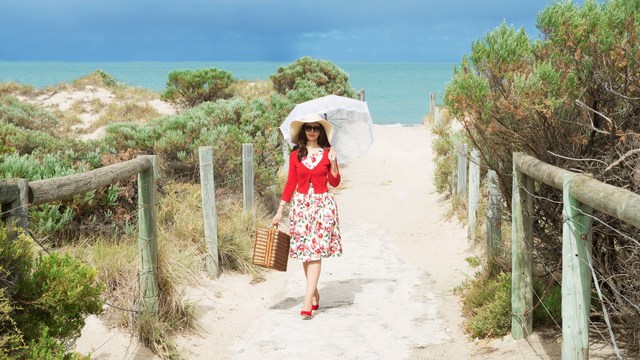 Lev Kropotov/PhotoSpin
In a youth-obsessed society, growing old is something women learn to view with consternation, along with the lines, wrinkles and age spots that often accompany it. But Botox aside, aging is a fact of life. It's all about attitude — and staying healthy.
Perhaps 91-years-young Golden Girl Betty White said it best: "So many of us start dreading age when we're in high school. And I think that's really a waste of a lovely life."
Here are nine ways to love your skin at any age.
Start on the inside
Dermatologists will tell you how your skin looks isn't all about creams, cosmetics, or procedures. Aside from your individual genetic makeup, the single biggest contributor to your skin's condition is what foods are going into your body.
When you adopt a healthy lifestyle — eat lots of fruits and veggies of various colors and exercise regularly — your healthy choices show up externally. Your skin will retain more of its youthfulness, and you'll have increased energy too.
Swear off sunbathing and tanning salons
Stay out of the sun between 10 a.m. and 2 p.m. when the sun's rays are the strongest. If you must be outside, experts advise wearing a protective hat, long-sleeved shirt, pants, and sunglasses. Freckles, age spots, and blotchy complexions and skin damage that can lead to cancer are linked to sun exposure.
Don't smoke
If you smoke, stop. Research shows that smoking dramatically ages your skin prematurely.
Slather on Protection
No matter your skin tone, apply sunscreen daily. Choose products with SPF 30 or higher with full spectrum (UVB and UVA) protection. Sun damage can speed up the appearance of fine wrinkles and an uneven skin tone.
Drink up
It's important to hydrate your skin each day. Your body continuously loses water from skin evaporation, breathing, urine and stool, and these losses must be replaced daily for good health.
Drinking water detoxifies the body, protects and moisturizes joints, and helps you feel fuller so you'll be less likely to overeat. Experts suggest women drink 2.2 liters (about 9 cups) of liquid daily.
Spot Check
Check your skin weekly for signs of skin cancer. If you see changes that look suspicious or worry you, call your doctor right away. As you age, especially if you are fair-skinned, your risk increases. It's advisable to have a physician check your skin at least annually.
Soothe dry skin
Dry skin is a normal part of the aging process. After age 20, your skin starts to produce less collagen — roughly 1 percent less each year. Additionally, aging results in less production of elastin, natural oils, and glycosaminoglycan that helps the skin rebound and stay hydrated.
Using a humidifier may help, along with opting for moisturizing soaps and lotions. If problems persist it could be part of a larger problem, so it's advisable to see your doctor.
Get some shut-eye
Getting too little sleep is a common complaint among women, especially those age 40 and older, but it's essential for your health and skin. While striving for an average of seven hours a night is your goal, chances are your hormones are keeping you from achieving it.
A review study published in the Journal of Clinical Sleep Medicine suggests that a natural reduction in melatonin, estrogen and progesterone production play havoc on women's internal clocks, making it harder to fall and stay asleep.
Experts suggest thatwearing moisture-wicking pajamas, changing your pillow, removing electronic devices from your bedroom, avoiding caffeinated foods and drinks several hour before bedtime, and darkening the room can help. Some women find relief with an OTC melatonin supplement, but if you are taking medications or have a condition, ask your doctor if taking the supplement is right for you.
What is beauty anyway?
If you've lived more than a decades you already know society's definition of "beauty" is ever-changing. The truth is, growing older is an accomplishment so stop obsessing over what you perceive as flaws, and own it.
As women, we have been indoctrinated our entire lives about what it means to be beautiful by companies who tell us what is wrong with us to sell their products. By incorporating a healthy lifestyle and maintaining a positive outlook we redefine beauty for ourselves, while demonstrating to those around us what it means to love the skin we're in at any age.
Lynette Summerill is an award-winning writer and watersports junkie who lives in San Diego with her husband and two beach loving dogs. In addition to writing about cancer-related issues for EmpowHER, her work has been seen in publications internationally.
Sources:
Betty White fights age stereotypes. Susan Donaldson James, ABC News. 24 May 2011
http://abcnews.go.com/Health/actress-betty-white-fights-age-stereotypes-aarp/story?id=13667587
Mayo Clinic. Water: How much should you drink every day?
http://www.mayoclinic.org/healthy-living/nutrition-and-healthy-eating/in-depth/water/art-20044256
Menopause Related Sleep Disorders. Philip S. Eichling M.D., M.P.H and Jyotsna Sahni, M.D. Journal of Clinical Sleep Medicine, 1:3:2005
http://www.aasmnet.org/JCSM/Articles/010312.pdf
Reviewed May 27, 2014
by Michele Blacksberg RN
Edited by Jody Smith
Tags: