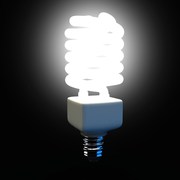 Ventrilock/PhotoSpin
CFL (compact fluorescent light) bulbs have become a popular alternative to incandescent light bulbs due to their energy savings.
However, a recent study performed a Stony Brook University in New York showed that UV emission from these bulbs could be harmful to healthy human skin based on in vitro testing.
Researchers from Stony Brook studied this hypothesis after reviewing a 2008 European (SCENIHR) report on light sensitivity that found that some CFLs emit UV radiation.
The concern in the SCENIHR study was that people exposed for prolonged periods of time in workplace settings to light bulbs in close proximity (less than 8 inches) could potentially develop skin and retinal damage.
In 2012, researchers from Stony Brook led by Miriam Rafailovich, Ph.D., Professor of Materials Science and Engineering and the Director of the Garcia Center for Polymers at Engineered Interfaces at Stony Brook, conducted a similar investigation.
CFL bulbs were purchased from different counties in Long Island, New York. The amount of UV emissions were measured and the integrity of the phosphor coatings on each bulb were checked.
"Results revealed significant levels of UVC and UVA (types of light energy), which appeared to originate from cracks in the phosphor coatings, present in all CFL bulbs studied," according to Science daily.com.
The same bulbs were then sent to Stony Brook's Advanced Energy Research and Technology Center (AERTC). This team took the CFL bulbs and studied the results of their exposure on healthy human skin cells in the lab. Tests were repeated using incandescent light bulbs.
Titanium dioxide (TiO2) nanoparticles were also added to each group of skin cells and additional measurements were taken. Titanium dioxide is a common ingredient in sunscreen and has strong UV-absorbing capabilities that protect the skin from UV light.
"Our study revealed that the response of healthy skin cells to UV emitted from CFL bulbs is consistent with damage from ultraviolet radiation," said Professor Rafailovich.
"Skin cell damage was further enhanced when low dosages of TiO2 nanoparticles were introduced to the skin cells prior to exposure."
However, incandescent light had no effect on the healthy skin cells regardless of whether TiO2 nanoparticles were present or not.
The 2008 SCENHIR report did not have a clear answer as to whether CFLs emit UV radiation that might be harmful to the public. They did conclude that an extra glass "envelope" around the curled CFL should provide enough protection to reduce the risk of UV exposure.
The Stony Brook researchers came to the same conclusion. "Despite their large energy savings, consumers should be careful when using compact fluorescent light bulbs," said Rafailovich.
"Our research shows that it is best to avoid using them at close distances and that they are safest when placed behind an additional glass cover."
The results, "The Effects of UV Emission from CFL Exposure on Human Dermal Fibroblasts and Keratinocytes in Vitro," were published in the 2012 June issue of the Journal of Photochemistry and Photobiology.
Sources:
Harmful Effects of CFL Bulbs to Skin; Energy-Efficient Bulbs Safest When Placed Behind Additional Glass Cover. Science Daily.com. July 18, 2012. Retrieved Oct. 23, 2012.
http://www.sciencedaily.com/releases/2012/07/120718122738.htm
Scientific study proves energy efficient bulbs can harm human skin cells. by Holly Martin. Examiner.com. JULY 19, 2012. Retrieved Oct. 23, 2012.
http://www.examiner.com/article/scientific-study-proves-energy-efficient...
Mironava, Tatsiana et al. The Effects of UV Emission from Compact Fluorescent Light Exposure on Human Dermal Fibroblasts and Keratinocytes In Vitro. Article first published online: 20 JUL 2012. DOI: 10.1111/j.1751-1097.2012.01192.x
http://onlinelibrary.wiley.com/doi/10.1111/j.1751-1097.2012.01192.x/abst...
Michele is an R.N. freelance writer with a special interest in woman's healthcare and quality of care issues. Other articles by Michele are at www.helium.com/users/487540/show_articles
Edited by Jody Smith