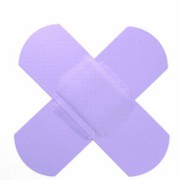 Photo: Getty Images
German scientists have developed a wound dressing that alerts the wearer to an infection without having to remove it.
The scientists at the Fraunhofer Research Institute for Modular Solid State Technologies (EMFT) in Munich use colored dyes that turn a bandage purple when an infection has occurred, allowing the state of the wound to be monitored from the outside.
A wound needs to be checked regularly to see if it is healing correctly. Not having to remove the bandage to check on the healing process is especially useful with children and the elderly who may find it painful to remove dressings. Taking a bandage off before a wound heals entirely also exposes it to germs, so keeping the bandage on can also allow for faster healing.
The new bandage works to protect a wound, just like any other dressing, but has the added advantage of a changing color when it is not healing correctly.
The dye in the bandage reacts to the change in the pH balance in the wound. If everything is healing normally the level should stay below 5, but a pH level between 6.5 and 8.5 shows a likely infection. This change from an acid to alkaline would indicate a problem.
If the pH levels alter under the dressing, the exterior changes from a yellowish color to a bright purple color to alert to the change.
This new bandage works on anything from a small cut to a major wound. A surgical incision normally takes longer to heal than a minor cut and infection is more likely.
Developing the color control strip posed a few problems. "The dye has to remain chemically stable when bonded to the fiber of the dressing material or plaster to ensure that it does not get into the wound. At the same time, the indicator must show a clear change in color and react sensitively in the right pH range," explained Dr. Sabine Trupp from the Fraunhofer Research Institute.
The next stage of development is to include optical sensors modules into the dressing to monitor pH values as a reader unit.
The team will now use the dressing on patients at the University of Regensburg's dermatology clinic. "Our studies of the pH value in acute as well as in chronic wounds have shown that it plays a key role in wound healing," said Dr. Philipp Babilas, a medical supervisor on the project.
Source: http://www.fraunhofer.de/en/press/research-news/2010/11/dressing-indicates-infections.jsp
Tags: