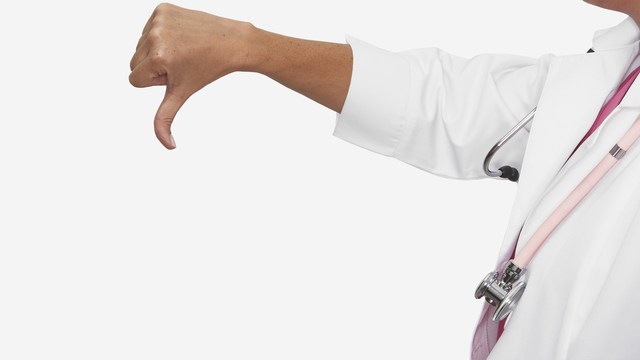 PS Productions/PhotoSpin
"Expression" is a hyaluronic acid product sold by Enhancement Medical, LLC. It had gained popularity as an off-label injectable facial filler, but due to increasing reports of adverse reactions, the FDA has released an official alert to avoid using Expression for this purpose.
"These events have included swelling, tenderness, firmness, lumps, bumps, bruising, pain, redness, discoloration, itching, and the development of hard nodules," the FDA reported.
The FDA has also sent a warning letter to Enhancement Medical, LLC regarding various violations including Expression injectable being improperly marked as an "injectable filler."
Expression was originally approved in 2012 for use as an intranasal splint, to be used after surgery inside the nasal cavity.
Facial fillers are a popular way to temporarily improve the cosmetic look of one's face. They can fill wrinkles, improve lip fullness, fill "marionette" lines between the nose and mouth as well as increase volume anywhere age has affected the face.
A number of FDA-approved facial fillers fillers use hyaluronic acid such as Juvederm and Restylane.
What makes hyaluronic acid fillers popular is that they are supposed to be reversible by using hyaluronidase, which allows the body to metabolize the gel in just 48 hours, reported Forbes.
Since it came on the market, Expression had worked its way into being used as facial filler off-label as an alternative to these other approved facial fillers.
One doctor advertised that Expression was superior facial filler because it could be used to treat a number of different areas of the face. Since it came in a larger syringe size than other fillers (1.5 cc's instead of 1 cc), a single syringe could fill more areas.
The doctor suggested that using Expression would enable patients to have less downtime and bruising. (2)
Recent postings by both women and physicians on a RealSelf forum about facial fillers paint a very different picture of the dangers using Expression can have. (3)
A number of women posting expressed problems with swelling and other issues such as bumpiness or divots in their skin.
On woman posted, "I had this filler in November of 2013 and it was my first time ever using filler. My face and lips swelled up for 3-4 days to the point I looked deformed. I was very scared as my doctor said there wasn't supposed to be any reaction. After about a week when the swelling went down my lines were still there and even worse on the left side of my face."
Dr. Mary Lynn Moran wrote she "had a patient with a horrible delayed reaction to Expressions in the tear trough. I placed only .3cc under each eye and about 3 weeks later it blew up to about 4 times the volume I originally placed. It was as hard as plastic and expanded way beyond the original injection site."
"I injected hyaluronidase several times before it had any impact. It took about 8 separate treatments with hyaluronidase to finally reduce it to the point where she did not look freaky. It turns out there was a batch of product that was hyper concentrated due to an error in processing. The company did not bother to inform any of its physicians about the problem."
To be fair, there were also a couple of postings similar to this woman's:
"I had Expression in a couple areas of my face and absolutely love it! I've had other fillers and in comparing Expression to the others I find the Expression to be a little longer lasting and certainly a better value! I had minimal swelling and will definitely use this product again!"
There are times that use of an off-label drug is necessary because no other drug with FDA approval can perform a particular action. This is not the case with dermal fillers.
There are plenty of dermal fillers a cosmetic physician can choose from. Expression has not gone through the clinical trials to be classified as an approved choice.
Use of any dermal filler has risks. Anyone who wants to have them should do research on the pros and cons themselves before having fillers injected into his or her face.
RealSelf stated that the greatest danger occurs when injectable fillers are injected by a practitioner who is not properly qualified to perform cosmetic injections.
RealSelf poster F. Victor Rueckl, MD also pointed out that, "In my opinion, any doctor who is an injector of filler should also be an experienced user of hyaluronidase."
Sources:
1. FDA Warns Of Danger From Injectable Filler. Forbes.com. 8/08/2014 by Melanie Haiken. Retrieved August. 16, 2014.
http://www.forbes.com/sites/melaniehaiken/2014/08/08/fda-warns-of-danger...
2. What can you tell me about the new dermal filler Expression? Harrison Patch July 25, 2013 by Dr. Marc Epstein Aesthetic M.D. Retrieved August 16, 2014.
http://patch.com/new-york/harrison/what-can-you-tell-me-about-the-new-de...
3. Has Anyone Use the New HA Dermal Filler Called "Expressions" and What Are Your Comments? Realself.com. Retrieved August 16, 2014.
http://www.realself.com/forum/the-new-ha-dermal-filler-called-expression...
4. Adverse Events Associated with Use of Enhancement Medical's "Expression" Intranasal Splint as a Dermal Filler. U.S. Food and Drug Administration. Date Issued: August 5, 2014.
http://www.fda.gov/MedicalDevices/Safety/AlertsandNotices/ucm407900.htm
Michele is an R.N. freelance writer with a special interest in woman's healthcare and quality of care issues. Other articles by Michele are at http://contributor.yahoo.com/user/499625/michele_blacksberg.html
Edited by Jody Smith