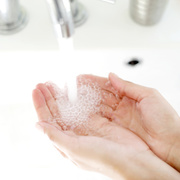 Photo: Getty Images
Washing your hands after going to the bathroom is so basic that we learn to do this at a very young age. However, if the soap being used has bacteria in it then, according to a recent study, you haven't accomplished making your hands cleaner. Additionally, your now less clean hands can pass bacteria on to other surfaces further contaminating areas that others touch.
In May 2011, researchers from GOJO Industries in Akron Ohio, Bioscience lab in Bozeman, Montana and the University of Arizona in Tucson studied what happens when hands are washed with soap from bulk-soap refillable dispensers that are contaminated with bacteria. Bulk soap refillable dispensers are the predominant type of dispenser in many community settings such as elementary schools.
The researchers went to an elementary school where 14 of the dispensers were already found to be contaminated with bacteria. They asked students and staff to wash their hands using the contaminated soap and compared the results against hands washed using non-contaminated soap.
Bacterial counts were tested before and after washing with the soap by having the participants place their hands against agar plates. Bacteria from their hands then fed on the agar, grew and could be counted. What the researchers found was pretty surprising.
"Gram negative bacteria on the hands of the students and staff increased 26-fold after washing with the contaminated soap." The fact that hands, that were supposedly clean after washing, grew significant amounts of bacteria indicates that surfaces those hands touched were also exposed to bacteria still present.
After the study was completed, the school replaced their dispensers with the type that contains sealed-soap refills. None of the dispensers were found to be contaminated after 12 months of use.
Researchers estimate that approximately one-fourth of public restroom dispensers are contaminated. Not all schools or public places are in the position to replace and purchase sealed soap refills. So what is a person to do?
Refillable soap dispensers can be cleaned and sterilized to reduce this type of bacterial contamination. Refillable soap dispensers should be cleaned at least every two months using a 5 percent bleach solution that is allowed to sit inside the container for several minutes then flushed out several times with water. The exterior should also be cleaned weekly using 5 percent bleach if needed around the spout.
Parents should check with their children's schools and ask about how the soap dispensers are cleaned and disinfected and how often.
For the rest of us, it may be a good idea to carry and use hand disinfectant when out in public if the dispensers in bathrooms do not use the sealed soap type. Washing one's hands upon returning home from a day out is also a very good idea.
Sources:
American Society for Microbiology. "Washing with contaminated soap increases bacteria on hands, research finds." ScienceDaily, 2 May 2011. Web. 16 Oct. 2011. http://www.sciencedaily.com/releases/2011/05/110502161423.htm
Zapka, C. et al. Bacterial Hand Contamination and Transfer after Use of Contaminated Bulk-Soap-Refillable Dispensers. Applied and Environmental Microbiology, 2011; 77 (9): 2898 DOI: 10.1128/AEM.02632-10. Abstract: http://aem.asm.org/cgi/content/abstract/77/9/2898
How To Clean A Soap Dispenser. Essortment: your source for knowledge. Web. 16 Oct. 2011.
http://www.essortment.com/clean-soap-dispenser-46551.html
Michele is an R.N. freelance writer with a special interest in woman's healthcare and quality of care issues. Other articles by Michele are at www.helium.com/users/487540/show_articles
Edited by Jody Smith