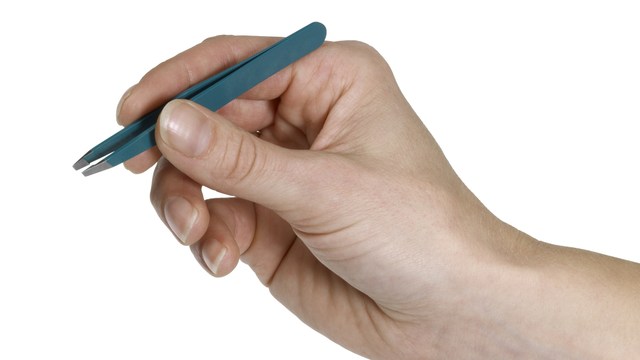 PRILL Mediendesign & Fotografie/PhotoSpin
Hirsutism is defined as "the excessive growth of thick dark hair in locations where hair growth in women usually is minimal or absent," according to Medscape. The hair growth occurs in places that are typically associated with male pattern locations such as the face, back, chest and areolae. Other symptoms of hirsutism may be acne, voice deepening, and decreased breast size.
Medscape reported that 1 in 20 women of reproductive age has hirsutism. The cause of the excess hair growth may be related to an androgen (male hormone) imbalance in the woman. Hirsutism also occurs more often in certain ethnic groups such as those of Mediterranean, Middle Eastern and South Asian ancestry.
Hormonal Causes of Hirsutism:
Polycystic ovary syndrome (PCOS)
Polycystic ovary syndrome is the most common cause of hirsutism. In PCOS there is a hormone imbalance due to abnormalities in the metabolism and control of androgen and estrogen. PCOS results in other changes such as obesity, acne, irregular periods, infertility and multiple cysts on the ovaries.
Cushing syndrome
Cushing syndrome occurs from overexposure to cortisone, a hormone produced in the body due to stress. This can happen because of a problem in the adrenal glands or it may be induced from taking the medication cortisone, which disrupts the balance of female to male hormones in the body.
Congenital adrenal hyperplasia
Congenital adrenal hyperplasia is an inherited adrenal gland disease that causes features similar to PCOS.
Tumors
A tumor of the ovary or adrenal gland is rare, but can cause hirsutism.
Other hormone imbalances
Hirsutism can occur in those who have excess growth hormone, hypothyroidism, an overproduction of insulin, and elevated prolactin levels.
Hormone type drugs that are used to treat other conditions such as Danzol, which is given for endometriosis, can cause hirsutism.
Tests for Hirsutism:
To look for hormonal imbalances, the doctor will have blood work drawn to check hormone levels such as testosterone, luteinizing hormone (LH), follicle stimulating hormone (FSH) and may collect a 24-hour urine sample to measure cortisone levels.
Imaging studies of an ultrasound or CT scan can look for abnormalities in the ovaries or adrenal glands.
Medication Treatments for Hirsutism:
Correction of any hormone imbalance needs to be carried out first to effectively treat hirsutism. Additional medication therapies may be attempted to rebalance hormone levels in the body. Each of these drugs below has various side effects, so make sure to discuss them with your doctor.
Birth control pills contain estrogen and progestin. They can act to block the production of androgen hormones.
Aldactone (spironolactone) is a common anti-androgen drug that can also control acne. Finasteride is another anti-androgen drug, which is usually given to men for benign prostatic enlargement. Both these drugs can take three to six months to work.
Metformin (Glucophage) may be given for women with PCOS to help regulate ovulation and treat hirsutism.
Hair Removal Treatments for Hirsutism:
There are temporary and more permanent hair removal methods for hirsutism.
The Mayo Clinic discussed temporary methods. They are depilatories, shaving, waxing, tweezing and threading. Bleaching to lighten the excess hair is also an inexpensive option rather than trying to remove it. More permanent options are, of course, more expensive.
Vaniqa is a prescription topical cream that acts to slow hair growth. It is not a depilatory. Vaniqua may take up to two months to work and hair growth returns to previous levels when the cream is stopped. Mild skin irritation may occur.
Electrolysis involves inserting a tiny needle into the hair follicle and using an electrical pulse to destroy the follicle. It may take several repeat treatments to work and can be painful, though numbing cream used before may help.
It is important to go to someone very experienced if considering electrolysis. Side effects may include lightening or darkening of the skin.
Laser treatment is the most expensive option and involves the use of laser light that damages the hair follicle so the hair will not re-grow. This must be performed by a skilled practitioner. Numerous treatments may be needed. Laser treatment also carries the risk of darkening, lightening or scarring the skin.
Diet to Treat Hirsutism:
According to Family Doctor.org, losing weight can reduce the amount of hormones in your body which may be contributing increased hair growth.
Sources:
Hirsutism. MayoClinic.com. Mayoclinic.com. Web Dec. 25, 2013
http://www.mayoclinic.com/health/hirsutism/DS00858/METHOD=print
Hirsutism. Family Doctor.org. Web Dec 25, 2013.
http://familydoctor.org/familydoctor/en/diseases-conditions/hirsutism.pr...
Dermatologic Manifestations of Hirsutism. Medscape Reference. Web Dec 25, 2013.
http://emedicine.medscape.com/article/1072031-overview
Polycystic Ovarian Syndrome. Medscape Reference. Web Dec 25, 2013.
http://emedicine.medscape.com/article/256806-overview#aw2aab6b2b2
Michele is an R.N. freelance writer with a special interest in woman's healthcare and quality of care issues. Other articles by Michele are at www.helium.com/users/487540/show_articles
Edited by Jody Smith