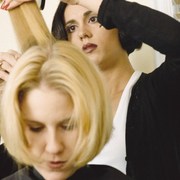 Photo: Getty Images
We love to go the hair salon for some pampering, a fresh look and even maybe some gossip but luckily we may be getting more -- some cancer screening. A recent study published in the October 11 issue of Archives of Dermatology reported the results of 203 surveys from 17 salons completed by hair professionals in Texas.
The hair stylists answered questions about how often they examine their client's scalp, face and neck looking for skin lesions as well as what interest they have in skin cancer education. While most hair professionals did not have formal training in skin cancer education (only 28 percent), almost 50 percent were "very" or "extremely" interested in learning more skin cancer knowledge.
What the questionnaires showed is that these hair professionals checked over 50 percent of their clients in the follow skin areas during their hair sessions for suspicious lesions. These results were reported from a single month period.
37 percent check their client's scalps
28.1 percent check their client's neck
15.3 percent check their faces.
Equally important was that almost 60 percent of hair stylists had recommended that their client seek medical attention for a suspicious skin lesion such as a mole. According to Dr. Michele Green, a dermatologist at Lenox Hill Hospital in New York City. "I've had numerous referrals from hairdressers. They notice, because that's what they're doing all day long."
Medpage reports that "6 percent of all melanomas, the deadliest type of skin cancer, are found on the scalp and neck, and these cancers accounted for 10 percent of all melanoma deaths in the United States from 1973 to 2003." Melanoma of the head or neck additionally does not have as good of a five-year survival rate as early-stage melanoma found in other places of the body, only 83 percent versus 92 percent.
While it is not thought that hair professionals should be in the position to diagnose skin cancer they are able to examine skin areas frequently overlooked by people during self examination such as the back of the ears or skin in the hair line. They also develop a repertoire with their clients so can encourage them to seek followup.
The researchers of the study suggest that hair professionals can act as "lay skin cancer educators" and that their ability to participate, as well as other service providers such a nail technicians or massage therapist, could provide a valuable service. The opportunity to develop campaigns that give further training is worth investigating.
Sources:
Skin Cancer Check May Come With New Hairdo. U.S. National Library of Medicine. Web. Oct. 21. 2011. http://www.nlm.nih.gov/medlineplus/news/fullstory_117629.html
Hair Salon Serves as Skin Cancer Screening Stop. Medpage Today. Web. Oct. 21. 2011.
http://www.medpagetoday.com/Dermatology/SkinCancer/29087
Bailey, Elizabeth E., MD et al. Skin Cancer Knowledge, Attitudes, and Behaviors in the Salon. Arch Dermatol. 2011;147(10):1159-1165. doi:10.1001/archdermatol.2011.184. Abstract:
http://archderm.ama-assn.org/cgi/content/short/147/10/1159
Michele is an R.N. freelance writer with a special interest in woman's healthcare and quality of care issues. Other articles by Michele are at www.helium.com/users/487540/show_articles
Edited by Jody Smith