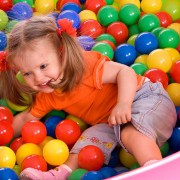 Photo: Getty Images
Moms who are looking for a moment of down time at a fast food stop by letting their kids go play in the tunnels should probably think again. According to Dr. Erin M. Carr-Jordan, "It's bad" inside those play mazes, so bad that she set out to show that this problem exists in playgrounds across the country.
It all started when this mother of four from Chandler Arizona stopped at a McDonald's near her Phoenix home to take her son to the bathroom. Her children wanted to go play in the PlayPlace so Erin agreed and went in with them.
She was appalled at what she saw. There was matted hair, abandoned bandaids, rotting food and the surfaces were sticky and gross. She videotaped the scene using her cell phone. Despite numerous complaints to the management, the play area was never cleaned up.
Dr. Carr-Jordan, who has a PhD in child development, knew she would need more clinical evidence that play structure surfaces were dangerous and unhealthy. She began collecting samples inside these playgrounds using lab swabs which were tested by Legend Technical Services Inc, an environmental testing company.
She set out on a mission to show that the lack of cleanliness inside fast food restaurants was not an isolated occurrence. Dr. Carr-Jordan has visited nearly 50 play areas, mixing family vacations in with play area inspections.
What has grown on those petri dishes is the kind of bacteria no one wants their kids to play in. The cultures showed an array of pathogens from coliform bacteria to staphylococcus.
According to Abcnews.com, 90 percent of the play areas Dr. Carr-Jordan tested had fecal material, which can make children ill if they then touch their noses or mouths. One restaurant's play tube had more than 20 million fecal bacteria in a two-inch area.
New York University Microbiologist Dr. Philip Tierno told the New York Times that, "There are very high counts and that means these places are not cleaned properly or not cleaned at all."
How to protect your kids:
1. Try to inspect the play areas yourself before your kids go in to see if there is scattered food or other signs that they have not been cleaned recently.
2. Push the management to keep the play areas clean by asking each time you visit when they were last cleaned.
3. Ask them specifically how they are cleaned to get thorough coverage of the surfaces. Ask them to post a clipboard with the dates, times and initials just like they do for bathrooms after cleaning.
4. The moment your kids come out of those play tubes, take them to the bathroom for a solid minute of hand-washing with soap.
Dr. Carr-Jordan has started a nonprofit group called Kids Play Safe in an attempt to push the Center for Disease Control and Prevention (CDC) and local health departments to take action in keeping these play zones clean. Play areas are viewed as nonfood areas so are not subject to the same priority during health inspections or the same cleanliness standards.
The CDC responded in the New YorkTimes that they would only go in if called by the state for a concern about a major disease outbreak.
In the hopes of moving the law along, Dr. Carr-Jordan continues to climb in and out of play tubes, culturing grime and reporting the results.
sources:
Lacey, M. (2011, September 18). A Mother's War on Germs at Fast-Food Playlands The New York Times. Retrieved September 27, 2011 from http://www.nytimes.com/2011/09/18/us/a-mothers-war-on-germs-at-fast-food-playgrounds.html
Mom Uncovers Filth, Fecal Bacteria, in Some Fast Food Restaurant Kiddie Play Areas. Abcnews.go.com. Aug. 15, 2011. By ELISABETH LEAMY. Retrieved 27. Sept. 2011.
http://abcnews.go.com/Business/mom-uncovers-filth-fecal-bacteria-fast-food-restaurant/story?id=14304094
Michele is an R.N. freelance writer with a special interest in woman's healthcare and quality of care issues. Other articles by Michele are at www.helium.com/users/487540/show_articles
Edited by Jody Smith