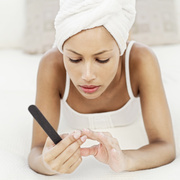 Stockbyte/Thinkstock
Nail lifting (onycholysis) occurs when a fingernail or toenail separates from its nail bed. As the end of the nail begins to lift away, it may look like a half moon or the free edge can appear like a hood laying over the nail bed, still attached.
Unfortunately, dirt and moisture can accumulate under the nail permitting fungus or bacteria to grow and an infection can develop.
What causes a nail to loosen and lift up in the first place?
According to Inteliheath.com, the most common cause of onycholysis is trauma. Trauma can mean actually having an injury to the nail, like banging it against something, but it can also be from repetitive activities like tapping your fingernails on a keyboard.
In addition, trauma can occur from too rough a manicure to clean dirt under the nails or using your nails like a tool to pry something up.
Certain medical conditions can cause onycholysis.
Psoriasis is the most common due to abnormal changes in the nail's growth. Certain medications such as psorlen can weaken the nail and some antibiotics such as tetracycline can cause the nail to lift after exposure to sunlight.
Chemotherapy can affect nail growth and attachment to the nail bed. Fungal infections can cause the nail to thicken so it does not lie smoothly allowing the nail edge to lift. An overactive thyroid has also been found to cause onycholysis.
How the nail appears
The nail may look white or discolored and have an irregular border. If there are other conditions such as fungus or psoriasis, the nail may have thickened skin underneath or be deformed in other ways such as having indentations or a bent shape. Unless the nail is lifted from trauma, there is little pain from a nail that develops onycholysis.
Treatment
Gently clip the unattached part of the nail back to keep lifted edges from catching on anything, which may tear the nail off suddenly. See a doctor for assistance if needed. Wear some type of bandaid covering to tape down the remaining nail to keep it secure.
Seek treatment for any medical causes of the onycholysis with a doctor. Fungal nail infections usually need long treatment times and possibly different medications depending on how severe the infection is. Thyroid levels and medication management may need to be checked. Psoriasis treatments may also need to be adjusted.
Prevention
Avoid using your nails as scrapers or other tools. Wear rubber gloves while cleaning and scrubbing during household tasks or when your hands are going to be immersed for long periods in water. Nails expand and shrink from excessive water exposure making them more susceptible to damage.
Source:
Onycholysis. Aetna Intelihealth. Retrieved Sept. 24, 2012.
http://www.intelihealth.com/IH/ihtIH/WSIHW000/9339/10456.html
Nail Lifting (Onycholysis). Skin Sight. Retrieved Sept. 24, 2012.
http://www.skinsight.com/adult/onycholysis.htm
Onycholysis. Drugs.com. Retrieved Sept. 24, 2012.
http://www.drugs.com/health-guide/onycholysis.html
Michele is an R.N. freelance writer with a special interest in woman's healthcare and quality of care issues. Other articles by Michele are at www.helium.com/users/487540/show_articles
Edited by Jody Smith
Tags: