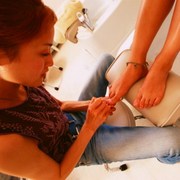 Creatas/Thinkstock
Treating yourself to a pedicure is a luxury you can't afford to miss. Can we say -- pampering personified?
But, before you indulge yourself in sweet bliss, be aware of the risks before you go handing your tootsies over to a stranger.
1. Check out the tools.
Risk - Germs can linger on salon tools if they aren't cleaned or sterilized properly. To avoid a nail infection, ask if they use a heat sterilizer for their tools or come prepackaged (even the emery board).
Reward - Don't be afraid to request a new tool if one slips on the floor, but if you're wary about the tools in general, tote your own into the salon. Feeling comfortable is the name of the game, so relax with the assurance of clean, sterilized instruments.
2. Save the blade.
Risk - Going barefoot or wearing sandals and flip-flops can cause calluses and corns. The salon technician may suggest using a razor to cut them off, but don't let her. You might risk an infection. If it's that serious, see a podiatrist instead.
Reward - At a salon, the technician will soak your feet in a warm whirlpool bath for at least five minutes. Then proceed with a foot file, pumice stone, and/or exfoliating scrub to remove dead, cracked, lumpy skin leaving your feet callus-free.
3. Protect your cuticles.
Risk - Cuticles keep out germs, so advise the nail technician not to push back or cut your cuticles during a pedicure. If you notice that your cuticles are red or irritated, see your doctor.
Reward - A knowledgeable pedicurist will soften ragged cuticles by rubbing in moisturizer.
4. Don't shave your legs.
Risk - Part of a spa pedicure includes a lower leg massage using a skin softening scrub, so don't shave your legs before the appointment. Certain bacteria can grow in a no-so-clean footbath and can sneak into your body through tiny nicks or cuts on freshly shaved legs.
Reward - The exfoliating scrub and massage smooths and soothes tired feet and legs. It's well worth postponing the shave until later.
5. Avoid the fish craze.
Risk - A new trend has salons using certain kinds of fish to nibble the calluses off your feet rather than scrubbing them off. This means tubs cannot be cleaned and sterilized between customers.
Some states have already banned these "fish pedicures" to avoid risking infection to both the employee and the customer (and possibly the fish).
Reward - Just don't go there. Eeeoooowww!!
6. Observe the obvious.
Risk – Going to an inexpensive salon just to save some bucks may be hazardous to your health, but it doesn't have to cost a leg and a toe, either. If you've spotted a coupon for a few dollars off, check it out and ask yourself these questions:
• Do the employees wash their hands and clean their equipment between clients?
• Does the salon have a pleasant smell and not an overpowering odor from nail products?
• Is the nail technician's state cosmetology license current and on display?
Reward: If you've answered yes to all of the above, trust that the salon is safe. Relax and enjoy. You deserve to be pampered.
Sources and further reading:
Slideshow: Your Guide to a Perfect Pedicure. WebMD. Web. 13, August, 2012
http://www.webmd.com/healthy-beauty/ss/slideshow-pedicure?ecd=wnl_skin_080812&ctr=wnl-skin-080812_ld-stry
Pedicure or Pedicurse? Proceed With Caution. US News Health. Web. 13, August, 2012
http://health.usnews.com/health-news/articles/2012/06/14/pedicure-or-pedicurse-proceed-with-caution
Reviewed August 14, 2012
by Michele Blacksberg RN
Edited by Jody Smith