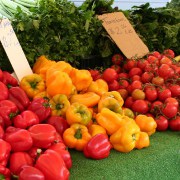 Photo: Getty Images
There's no such thing as a healthy tan, or is there? New British Research
showed that eating a diet rich in fruits and vegetables gives you a healthier glow than the sun.
"Most people think the best way to improve skin color is to get a suntan, but our research shows that eating lots of fruit and vegetables is actually more effective," says Dr. Ian Stephen of the University of Nottingham, the study's lead author.
Stephen's team, working at a laboratory dubbed the "Perception Lab" at the University of St. Andrews in Scotland, was the first to assess the skin color of people in relation to their diet. They used special computer software to manipulate the skin color of 51 faces to simulate more or less carotenoids and more or less sun exposure. Participants were then asked to adjust the skin tone to make the faces look as healthy as possible.
The research team found that people who eat greater portions of fruit and vegetables per day have a more golden skin color, thanks to substances called carotenoids, such as those found in carrots and tomatoes.
Carotenoids are red and yellow antioxidants that help soak up damaging compounds produced by the stresses and strains of everyday living, especially when the body is combating disease and they are important for our immune and reproductive systems.
Given the choice between skin color caused by suntan and skin color caused by carotenoids, people preferred the carotenoid skin color, the research showed.
"If you want a healthier and more attractive skin, you are better off eating a healthy diet with plenty of fruit and vegetables than lying in the sun or using a tanning bed and risking skin cancer," Stephen said.
Stephen says individual's desire to have a golden glow is rooted in evolution. "Evolution suggests individuals choose to form alliances or mate with healthier individuals over unhealthy individuals."
While this study describes work in Caucasian faces, the paper, published in the journal Evolution and Human Behaviour also described a study that suggested the effect may exist cross-culturally, since similar preferences for skin yellowness were found in an African population.
Professor David Perrett heads the Perception Lab. He tends to go along with the evolution premise, and for a good reason.
"This is something we share with many other species. For example, the bright yellow beaks and feathers of many birds can be thought of as adverts showing how healthy a male bird is. What's more, females of these species prefer to mate with brighter, more colored males. Our work suggests that the carotenoid coloration of human skin may represent a similar advertisement of health and fertility."
Lynette Summerill is an award-winning writer who lives in Scottsdale, Arizona. In addition to writing about cancer-related issues for EmpowHER, her work has been seen in newspapers and magazines around the world.