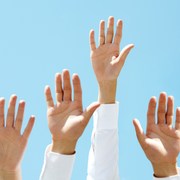 MonkeyBusiness Images/PhotoSpin
Hand rashes can appear suddenly or develop over time. Dr. Peter Saitta, a New York dermatologist wrote in his blog that there are three main causes of hand rashes, also known as hand dermatitis.
The first is the most common, called irritant contact dermatitis. There are numerous irritating substances in our environment from cleaning chemicals to cosmetics or other skin products.
Contact dermatitis causes the skin on your hands to become red, dry, and itchy. Swelling may even occur.
Interestingly, Dr. Saitta says that the most common irritant is water since we wash our hands so much. The American Osteopathic College of Dermatology stated that "once skin becomes red and dry, even so called 'harmless' things like water and baby products can irritate skin further."
A second cause of hand rashes is allergic contact dermatitis but it is much less common than irritant contact dermatitis.
Allergic contact dermatitis often occurs after the skin is in contact with a suspected substance and then a rash develops. Mayoclinic.com states this can happen after a single exposure or after several.
Common culprits are rubber, nickel, poison ivy and even preservatives in prescription creams which can cause allergic contact dermatitis.
This type of hand rash can appear 24-48 hours after an exposure and form bumps, weepy blisters, and feel warm and tender, according to Medline.
The last or third type of hand rash is one that is related to our body's immune response and genetics.
Atopic dermatitis (AD) is one and is commonly called eczema but there are many variants of hand eczema, stated Dr. Sunil Sharon Dhawan, a dermatologist from California who teaches at Stanford University School of Medicine in the Dermatology Department.
He describes atopic hand dermatitis as itchy, red, blistered and sometimes scaly. It can occur on both surfaces of the hands but is more common on the top. AD can appear similar to psoriasis and contact dermatitis.
Psoriasis is a common rash that can occur on the hands especially if a person has psoriasis on other areas of the body, said Dr. Dhawan. He describes hand psoriasis as "generally scaly, red, cracked, pustular and somewhat itchy" on the top or palm surface of the hands.
According to Dr. Dhawan diagnosing and treating hand rashes can be difficult as sometimes a person has a combination of both contact dermatitis and hand eczema or psoriasis and a fungal infection.
Please read my next article on how to treat hand rashes.
Sources:
Contact dermatitis. Mayoclinic. com. Retrieved Dec. 21, 2012.
http://www.mayoclinic.com/health/contact-dermatitis/DS00985/DSECTION=causes
Contact dermatitis. MedlinePlus. Retrieved Dec. 21, 2012.
http://www.nlm.nih.gov/medlineplus/ency/article/000869.htm
The Bottomline: Hand Rashes. Dermatology Advice By Dr. Peter Saitta. Retrieved Dec. 21, 2012. http://drpetersaitta.com/2012/08/03/the-bottomline-hand-rashes/
Hand Rashes. American Osteopathic College of Dermatology. Retrieved Dec. 21, 2012.
http://www.aocd.org/skin/dermatologic_diseases/hand_rashes.html
HAND DERMATITIS, OR MY HANDS ARE KILLING ME! By Dr. Sunil Sharon Dhawan. National Eczema Association. Retrieved Dec. 21, 2012.
http://www.nationaleczema.org/living-with-eczema/hand-dermatitis-or-my-h...
Michele is an R.N. freelance writer with a special interest in woman's healthcare and quality of care issues. Other articles by Michele are at www.helium.com/users/487540/show_articles
Edited by Jody Smith