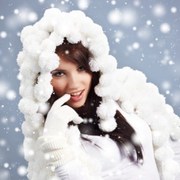 Photo: Getty Images
Winter is on the way and depending on where you live, you will most likely take routine steps for weatherizing your home and winterizing your car. So why wouldn't you do the same for your skin?
Just heating your home in the winter will suck moisture out of your skin and when you add cold, windy weather to the mix and ... well, you know what happens.
If you haven't thought twice about protecting your skin from the winter elements, try this psychology: Skin needs maintenance and protection just like your car.
To winterize your skin as well as your car, follow these five simple steps to protect yourself from the brrrrr ...
1. Lube with cream instead of lotion.
Just as you would change your motor oil from 80/20 to 80/40 for the winter, you should be using a thicker moisturizer as well. Creams are oil-based and nourish the skin much better than lotions.
Cream also provides a protective coating. Lotions are lighter and mostly water-based, which is better for warmer weather.
2. Limit the washing.
You would never think of washing your car every day during the winter months. The same goes for your skin. Even though hot showers and baths make us feel all warm and cozy when it's cold outside, it can leave your skin screaming for moisture.
Try lukewarm water or if you must use hot, cut it short. Use shower gel instead of soap and follow up with your favorite moisturizing cream.
3. Protective coating.
Many people put an extra coat of wax on their car to protect it from the elements. Your skin needs protecting, too, from UV rays. The sun still shines in the winter, so it's important to use at least SPF 15 on your face and other exposed areas.
If you work or play outside (skiing, sledding, etc.) you might consider kicking it up to SPF 30.
4. Keep them covered.
Think of those parked cars with protective covers, or those lucky enough to have a garage, and do the same for your hands. Because the skin on your hands is thinner, cold, wet weather can leave them cracked and itchy. Remember to wear gloves whenever you go outside.
For extra protection for hands (and feet), apply heavy moisturizer or petroleum jelly before bedtime and slip on latex or cotton gloves to keep in the moisture.
5. Keep the water flowing.
Cars need water to run well and so do people, although, without the anti-freeze. Drinking lots of water (8-10 glasses per day) is a must anytime of the year for overall health and that includes your skin.
As winter approaches, make sure you winterize your car and your skin. Your car will be happy and so will you.
Sources:
My Health News Daily – 5 Ways to Prepare Your Skin for Winter. Web. 30, November, 2011
http://www.myhealthnewsdaily.com/1867-five-ways-prepare-skin-winter.html
WebMD – Healthy Beauty – 10 Winter Skin Care Tips. Web. 30, November, 2011 http://www.webmd.com/healthy-beauty/features/ten-winter-skin-care-tips
Reviewed November 30, 2011
by Michele Blacksberg RN
Edited by Jody Smith