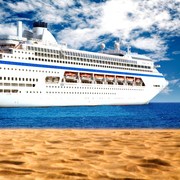 Andres Rodriguez/PhotoSpin
There's a nasty bug that has ruined many a cruise ship vacation, and it goes by the name of norovirus.
No doubt many cruise aficionados wish that the highly contagious stomach illness stemming from norovirus would just sail off into the sunset.
Well, a norovirus vaccine could be in the works, thanks to successful clinical trials at the University of Rochester Medical Center in New York. Researcher John Treanor told a September 2012 conference of scientists in San Francisco that his study participants quickly built antibodies against norovirus when given the experimental vaccine.
In scientific terms, participants showed 10- to 100-fold mean increases in antibodies against two norovirus subtypes, and this was within just a week of receiving the first of two doses of the product.
Treanor added that the vaccine was well tolerated among the approximately 75 healthy adults in the study, with the most common side effects being mild pain at the injection site and a minor headache.
Additional trials of the vaccine are underway at LigoCyte Pharmaceuticals of Bozeman, Mont., where it was developed and which provided funding for Treanor's study.
The particular nastiness of norovirus has long been associated with environments where many people are together in close quarters and food is being served and/or bathroom facilities are being used.
Common breeding grounds include cruise ships, hotels, nursing homes, camps, college dorms, military settings, prisons and sometimes airline flights.
Plus, norovirus can be spread in a number of ways, including poor hand-washing, infected food, contaminated kitchen and bathroom surfaces and unsanitary water supplies.
The Centers for Disease Control and Prevention says that in the United States, norovirus is responsible for up to 50 percent of outbreaks of gastroenteritis blamed on foodborne germs.
The stomach illness has an incubation period of 24 to 48 hours, and presents itself with a quick and violent onset of vomiting and nonbloody diarrhea, the CDC said. Other symptoms include abdominal cramps, nausea and occasionally a low-grade fever.
It can take one to four days of self-care to get over a norovirus infection, although dehydration is a risk and it might require medical attention.
Treanor and other scientists at the conference noted that getting a norovirus vaccine ready for clinical use would take a lot of work. Primarily, scientists need to know how the virus evolves once vaccines are given and whether the vaccines need to be regularly updated in composition, much the way influenza vaccines are.
Another hurdle in studying the vaccine, Treanor said, is that noroviruses don't grow in culture and can't be tested on animals.
Still, if continued development shows promise, then medical experts can envision a time when planning a cruise also includes planning a vaccination.
In the meantime, here are a few common-sense preventive measures against norovirus when living in close quarters, from the CDC and WebMD:
- Wash hands frequently and thoroughly.
- Use bleach products approved by the Environmental Protection Agency to disinfect contaminated surfaces in kitchens and bathrooms.
- Use special care where fecal material or vomit might have come into contact with the surfaces.
- Throw soiled clothes into the washer and dry them on high heat.
- Thoroughly wash fruits and vegetables.
- Consider quarantining individuals who have become ill.
Sources:
Gever, John. " 'Cruise Ship Virus' Vaccine Shows Promise." MedPage Today. Web. 17 Sept. 2012.
http://www.medpagetoday.com/MeetingCoverage/ICAAC/34781
Laino, Charlene. "Taking a Shot at Sinking the 'Cruise Ship' Virus." WebMD.com. Web. 17 Sept. 2012.
http://www.webmd.com/news/20120913/taking-shot-sinking-cruise-ship-virus
Hall, Aron J., and Ben Lopman. "Norovirus." Centers for Disease Control and Prevention. Web. 17 Sept. 2012.
http://wwwnc.cdc.gov/travel/yellowbook/2012/chapter-3-infectious-disease...
Reviewed September 18, 2012
by Michele Blacksberg RN
Edited by Jody Smith
Tags: