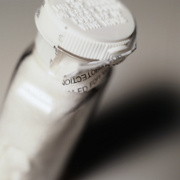 Photo: Getty Images
When a person has a stroke – a neurological condition in which the blood supply to the brain becomes disrupted – she is at risk for a second stroke. The Stroke Center at University Hospital stated that about 25 percent of patients have another stroke within a 5 year period. The risk of having a second stroke is the greatest soon after the stroke: MedlinePlus noted that this can be for a few weeks or months after having the first stroke. After that period, the risk for a second stroke decreases.
Since a stroke can be devastating, doctors will prescribe treatments to minimize patients' chances of having another stroke. For example, a doctor may prescribe a patient an anticoagulant after a stroke such as warfarin or heparin. Anticoagulants work by affecting the blood's ability to clot. One type of stroke, ischemic stroke, results from a blood clot blocking an artery, preventing blood flow to the brain. The National Institute of Neurological Disorders and Stroke noted that about 80 percent of strokes are ischemic strokes. Another option may be surgery. If a patient has plaques inside of one of her carotid arteries, which supply blood to the brain, her doctor may perform a carotid endarterectomy – surgical removal of those fatty deposits.
One medication that is used to prevent second strokes is aspirin, which interferes in blood clotting. A study published in The Lancet in May 2011 reported that aspirin is still a good stroke prevention medication. The study, which included over 19,000 participants who had had ischemic strokes, compared aspirin to a new drug, terutroban. Half of the participants took terutroban and the other half took aspirin for 28 months. Randy Dotinga of HealthDay reported that terutroban testing on animals had shown promising results, but on the human clinical trials, the researchers stopped the study early, as it did not show any additional benefits compared to aspirin.
While aspirin may be beneficial in preventing a second ischemic stroke, patients should be aware of the risks of being on daily aspirin therapy. The Mayo Clinic staff warned that stopping daily aspirin therapy may result in a rebound effect, which would increase a patient's risk of a stroke. Daily aspirin therapy may also increase a patient's risk for a hemorrhagic stroke, a type of stroke in which a blood vessel bursts, resulting in bleeding in the brain.
References
Stroke Center at University Hospital. Stroke Statistics. University of Medicine and Dentistry of New Jersey. Web. 23 June 2011
http://www.theuniversityhospital.com/stroke/stats.htm
A.D.A.M. Stroke. MedlinePlus, 2010. Web. 23 June 2011
http://www.nlm.nih.gov/medlineplus/ency/article/000726.htm
National Institute of Neurological Disorders and Stroke. Stroke: Hope Through Research. National Institutes of Health, 2011. Web. 23 June 2011
http://www.ninds.nih.gov/disorders/stroke/detail_stroke.htm
Dotinga, Randy. Study Finds Aspirin Still Best at Preventing 2nd Stroke. HealthDay, 25 May 2011. Web. 23 June 2011
http://consumer.healthday.com/Article.asp?AID=653245
Mayo Clinic Staff. Daily Aspirin Therapy: Understand the Benefits and Risks. MayoClinic.com, 2010. Web. 23 June 2011
http://www.mayoclinic.com/health/daily-aspirin-therapy/HB00073/METHOD=print
Reviewed June 24, 2011
Edited by Alison Stanton
Tags: