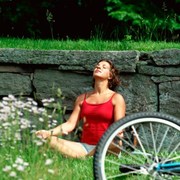 Creatas/Thinkstock
May is a glorious month! The weather is marvelous, spring is in full-bloom and the promise of summer is on the horizon.
For many of us, May is the perfect time to take stock of our figure and lose those few extra pounds or make an extra trip or two to the gym to get in shape for swimsuit season.
While we focus on getting our body ready for summer, May is also the perfect time to focus on our health, as American Stroke Month kicks off its annual 31 Days of Power.
Throughout the month of May, health care professionals, health advocates, business affiliates and partners, and people like you will be uniting together to spread the word and raise awareness about the risk of stroke and how it can be prevented.
The most common form of stroke, ischemic stroke, occurs when a blood clot stops the blood flow to the brain. Currently the Number 4 killer in the United States, strokes is often life-threatening and frequently results in permanent disability.
Approximately six million people in the United States have suffered a stroke. Risk factors including smoking, obesity, high blood pressure or hypertension, diabetes, heart disease, high cholesterol, lack of physical activity, and sickle cell anemia.
Those with a family history of stroke are at a greater risk, as are persons of certain ethnicities. At particular risk are those of African-American descent. African-Americans have higher death rates than other ethnicities, and carry twice the risk of first strokes as other ethnic groups.
If you or someone you know is at risk, consider joining the fight against stroke by becoming a Power Ambassador in the Power to End Stroke movement, and organize or host an event during the 31 Days of Power.
To become a Power Ambassador, simply register at the Power Ambassador web page at http://www.powertoendstroke.org/get-ambassadors.html/ and commit to completing one stroke awareness activity in your community this year.
The Power to End Stroke organization provides Power Ambassadors with numerous tools and information to make planning and hosting the stroke awareness event easy and relatively stress-free.
Some of the many free tools available include the following:
• Family History Tree
When it comes to stroke, do you really know your family history? Sponsored by United Healthcare, the Family History Tree is the only tool that enables you to document the incidence of stroke risk factors such as diabetes, sickle cell disease, cancer, heart disease, high blood pressure, and more.
When finished, simply print the tree out and take with you to your doctor to discuss your stroke risk. For more information, visit http://www.powertoendstroke.org/familytree.cfm/
• Power Fitness Plan
A 12-week program, the Power Fitness Plan is designed to get you up and moving for at least 150 minutes per week. Choose from two different workout plans to meet your needs.
The Power Fitness Plans can be downloaded from http://www.powertoendstroke.org/tools-fitness-plan.html/
• Power Finance
Unfortunately, any type of illness not only has a physical cost but a financial cost as well. On the Power Finance web page, you'll learn more about how stroke may impact family finances, how you can protect you and your family financially, caregiver resources, and how the 2011 healthcare reform bill impacts stroke patients.
For more information, visit the Power Finance page at http://www.powertoendstroke.org/tools-finance.html/
• Power Nutrition
The older I become, the more convinced I am that good nutrition is the key to good health.
Learn more about how nutrition can improve your stroke risk outcome at the Power Nutrition web page at http://www.powertoendstroke.org/tools-nutrition.html/
• Power to End Stroke – Talking Points
Are you afraid that you'll forget key facts if you try to speak in public? Have no fear! Simply download the Talking Points PDF and use as a guide during your presentation.
Don't forget to download a free promotional stroke awareness poster. If you need quick stroke facts, numerous guides are available on stroke topics ranging from warning signs to guides targeting the stroke fight in African-Americans.
For more information visit:
o Power to End Stroke Talking Points: http://www.powertoendstroke.org/pdf/talking_points.pdf/
o Power Promotional Poster http://www.powertoendstroke.org/pdf/PTES_Poster.pdf/
o Power Guides: http://www.powertoendstroke.org/tools-printable-guides.html/
If you're not ready to be a Power Ambassador, you can still help spread stroke awareness by using social media, so be certain to Tweet, post on Facebook, blog, and help spread the word.
Also, take the personal stroke risk assessment and make a commitment to change your lifestyle and improve your personal risk for stroke.
If you suspect that you or someone you know may be having a stroke, it's important to call 9-1-1 or seek emergency medical help immediately. Stroke warning signs come on suddenly and include:
• Confusion
• Difficulty speaking or understanding
• Vision difficulties
• Numbness or weakness in the face, arms or legs (may affect one side of the body only)
• Severe headache
• Loss of balance or coordination
• Difficulty walking
• Dizziness
Sources:
31 Days of Power. American Stroke Association. 2011. http://www.powertoendstroke.org/get-31days.html
Cerebrovascular Disease or Stroke. Centers for Disease Control and Prevention. 27 Jan 2012.
http://www.cdc.gov/nchs/fastats/stroke.htm
Stroke. Centers for Disease Control and Prevention. 07 Dec 2011. http://www.cdc.gov/stroke
Reviewed April 16, 2012
by Michele Blacksberg RN
Edited by Jody Smith
Tags: