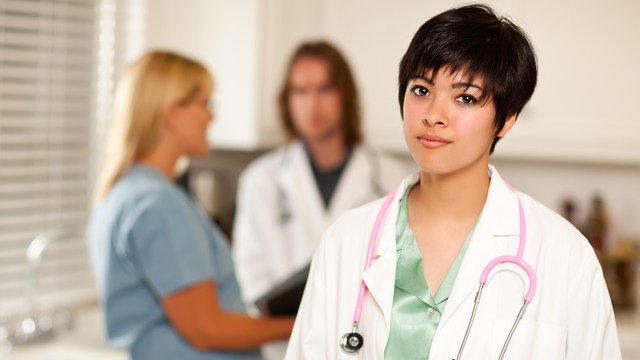 Andy Dean Photography/PhotoSpin
Don't get caught believing a myth instead of knowing the truth about stroke treatments. It is not true that strokes cannot be treated. The National Stroke Association states that not only can strokes be treated, they should be treated as soon as possible. A stroke is a medical emergency that requires immediate treatment.
Stroke is an attack that can damage portions of the brain. During a stroke, blood vessels that provide food and oxygen to the brain become blocked or burst open.
If blood flow is not quickly restored, cells in the brain begin to die causing brain damage. This can result in permanent loss of some or all of the abilities controlled by that portion of the brain including speech, movement and memory.
Some types of strokes are the result of high blood pressure or other diseases that causes blood vessels to rupture. Other strokes are caused by blood clots.
When we have an injury, a blood clot can help seal the wound and prevent excessive bleeding. But when a blood clot forms inside a blood vessel, it can cause serious damage if it blocks the flow of blood through that artery or vein.
Blood clots can form around a buildup of cholesterol or other deposits in a blood vessel, or they may form in other locations in the body such as in the heart. These blood clots can break away and travel through the blood vessels to the brain.
If a clot reaches a blood vessel that is too small for it to pass, it can completely block the vessel supplying blood to the brain and cause a stroke.
Once blood stops flowing to part of the brain, time becomes a critical factor. The longer a blood vessel is blocked, the more brain cells may die and the greater the brain damage that may occur.
It is crucial to get emergency treatment for stroke as soon as possible to minimize damage to the brain.
There are two basic types of emergency treatment currently available:
Thrombolytic medication
These special drugs have been approved by the FDA to treat stroke and heart attack. They work by quickly dissolving the blood clot to open the blood vessel and restore blood flow. Thrombolytics must be given within three hours of the start of stroke symptoms in order to limit stroke damage and associated disabilities.
Ideally, thrombolytic medications should be given within the first 90 minutes after arriving at the hospital for treatment. Risks from this treatment include possible excessive bleeding that can become life-threatening.
Mechanical thrombolysis
This treatment uses a mechanical device to remove the blood clot from the blood vessel. A small surgical instrument is inserted into a blood vessel and carefully maneuvered through the arteries to the location of the clot.
Depending on which device is used, the clot may be pulled out of the vessel using a corkscrew, spiral mesh or other mechanical device. This treatment can be effective after the three-hour window for thrombolytic medication has passed, and may be used in combination with clot-dissolving medications.
Regardless of which method is used, getting treatment quickly is key to minimizing brain damage from a stroke.
You can help protect your health if you know the symptoms of a stroke so you can get medical help immediately if you or someone you know has a stroke.
Sources:
National Stroke Association. What Is Stroke? Web. April 22, 2014.
http://www.stroke.org/site/PageServer?pagename=stroke
National Stroke Association. Stroke Myths. Web. April 22, 2014.
http://www.stroke.org/site/PageServer?pagename=myth
National Stroke Association. Stroke Treatment. Web. April 22, 2014.
http://www.stroke.org/site/PageServer?pagename=treatment
MedlinePlus. Thrombolytic therapy. Web. April 22, 2014.
http://www.nlm.nih.gov/medlineplus/ency/article/007089.htm
Medscape. Thrombolysis in Acute Stroke. Stephen A. Berman, MD. Web. April 22, 2014.
http://emedicine.medscape.com/article/1163240-overview#aw2aab6b3
Stryker.com. Stryker Trevo® Pro Retrieval System. Web. April 22, 2014.
https://www.stryker.com/en-us/products/NeurovascularIntervention/TrevoPr...
Concentric-medical.com. The Merci Retrieval System. Web. April 22, 2014.
http://www.concentric-medical.com/index.php
Reviewed April 23, 2014
by Michele Blacksberg RN
Edited by Jody Smith
Tags: