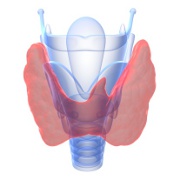 Photo: Getty Images
Each year, tens of thousands of people undergo unnecessary thyroid surgeries to remove part or the entire hormone gland after doctors discover suspicious nodules. He or she then faces a tense waiting period to see if, over time, clear signs of cancer develop.
But what if a test could analyze cell samples in a laboratory to determine with a high degree of certainty if cancer is present? If genomic markers coded in cells could signal doctors that a tumor is benign, many patients could avoid the unnecessary trauma, cost, discomfort and risk of surgery.
Welcome to the future.
Doctors at the University of Colorado School of Medicine are helping to pioneer this revolutionary genomic approach that only a few months ago was unavailable to thyroid patients. It is being successfully used at limited sites around the country, but could be coming to a hospital near you next year.
Dr. Bryan Haugen, MD, who heads the Division of Endocrinology, Metabolism and Diabetes at the CU medical schools says usually cells extracted from suspicious nodules in the thyroid are benign, but in 15 to 30 percent of those samples it's simply hard to tell.
The next step requires surgeons to remove all or part of the thyroid for further testing. The good news is about 70 percent of the time, no cancer is present. The bad news is the patient is unnecessarily subjected to surgery and lifelong thyroid hormone treatments.
The thyroid is a butterfly-shaped gland located in the front of your neck that produces hormones that controls your metabolism speed. Unexplained weight gain, swelling or enlargement in the neck— called nodules, high blood pressure and heart palpitations, tiredness, depression and difficulty sleeping, hair loss, and numbness or tingling in the hands can all be symptoms of a thyroid disorder.
Haugen is part of a national team who sought an alternative to surgery to determine if cancer was present in those hard-to-tell cell samples. It turns out all the information doctors need is coded in a person's genes.
"When we see test results showing the right patterns we can say with a great deal of certainty that, despite initial concerns, the patients does not have cancer," Haugen said.
The genetic test was developed by Veracyte, a California molecular diagnostics company, whose marketing the test – branded Afirma – on a limited basis right now but plans additional commercialization in early 2011.
Haugen's team at CU, along with researchers at Brigham and Women's Hospital is co-leading the national trial to validate the test at 40 U.S. sites. Two pathology experts analyze test results by comparing them to tissues obtained by traditional surgery. The tests look for a particular pattern appearing among just 142 thyroid genes out of the tens of thousands that signal with about 95 percent certainty that no cancer is present.
Haugen says while a five percent chance still exists that cancer can be present when it signals otherwise, the odds are similar to when an expert pathologist looks at cell samples to determine malignancy, but this time without the unnecessary surgery.
The American Cancer Society estimates that 44,670 new thyroid cancer cases (33,930 in women, and 10,740 in men) will be diagnosed nationwide this year. Nearly two-thirds of the cases occur in people between the ages of 20 and 55. The chance of being diagnosed with thyroid cancer has doubled since 1990, in part because of better detection.
Lynette Summerill is an award-winning writer who lives in Scottsdale, Arizona. In addition to writing about cancer-related issues for EmpowHER, she pens Nonsmoking Nation, a blog following global tobacco news and events.