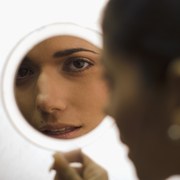 PS Productions/Photospin
Age spots are reminders of the passage of time. While the presence of age spots does not cause us any danger, many of us would prefer to have them be less noticeable, especially if they are on our face.
There are numerous treatments for age spots, some may be preferred over others. Insurance does not usually pay for treatments and those provided by a dermatologist or plastic surgeon will be more expensive than those you self apply.
Creams
Hydroquinone is the active ingredient in most bleaching creams. It comes in over-the-counter and prescription strengths and will take several weeks to show lightening.
You must continue to use bleaching creams afterwards to keep the area lightened and use sunscreen to protect from redarkening, according to Realself.com.
Some studies have shown that hydroquinone caused cancer when fed to mice and rats. The FDA has considered banning hydroquinone, but has not done so at this time, according to Harvard Health.
Harvard Health also stated that topical tretinoin, which is approved for acne, has been shown to lighten age spots over the course of several months. Trentinoin is found in products such as Retin-A, Renova and Avita.
Cryosurgery
This procedure involves the freezing of the age spot using liquid nitrogen or another agent. Cryosurgery can be used on a single age spot or series of them. As the area heals, the skin that returns is lighter. There is a small chance of scarring or discoloration, according to the Mayoclinic.com.
Dermabrasion
This technique uses a rotary brush that literally sands down the outer surface of your skin. A new layer of skin then regrows in its place in five to eight days, according to WebMd.
Your skin will require special cleansing and use of ointments or dressings to assist in healing. Redness may last 6 to 12 weeks afterwards and there is a risk of scarring.
Chemical peels
With chemical peels, a mild acid is applied to the outer layer of the skin to the age spots. Mayoclinic.com stated that several treatments may be needed, and sunscreen use afterwards is strongly suggested. There is a risk of discoloration and irritation to the skin with chemical peels.
Laser
There are various types of laser treatments for age spots. Lasers destroy the cells that produce melanin (brown color) without damaging the surface of the skin. Mayoclinic stated that several sessions will be needed, but side effects are few.
The doctors from Realself.com have indicated that there are different types of lasers to be considered in treating age spots.
Dr. Nissan Pilest suggested that if one only has a few age spots, then a simple diode laser like Diolite may work, and the cost would be low.
He went on to say that IPL lasers were "good for more diffuse pigmentation and redness" and are less expensive than Fraxel lasers. "Fraxel is recognized for both smoothing the skin and evening out color."
Sunscreen
Use of daily sunscreen is important, regardless of what treatment for age spots are used. Be sure to pick one that blocks both UVA and UVB rays with a strength over 30 SPF.
Sources:
Age spots (liver spots) By Mayo Clinic staff. Web Sept. 29, 2012.
http://www.mayoclinic.com/health/age-spots/DS00912/METHOD=print
Harvard Health Publications. Health.Harvard.edu. Web Sept. 29, 2012.
http://www.health.harvard.edu/press_releases/topical-treatment-for-age-s...
Will Age Spots Return if Whitening Cream Use is Discontinued? Realself.com. Web Sept. 29, 2012.
http://www.realself.com/question/whitening-creams-completely-remove-age-...
Dermabrasion. WebMD. Web Sept. 29, 2012.
http://www.webmd.com/healthy-beauty/dermabrasion-21085
Which Between IPL or Fraxel Laser is Better for Age Spots? Realself.com. Web Sept. 29, 2012.
http://www.realself.com/question/fraxel-laser-ipl-age-spots
Michele is an R.N. freelance writer with a special interest in woman's healthcare and quality of care issues. Other articles by Michele are at www.helium.com/users/487540/show_articles
Edited by Jody Smith