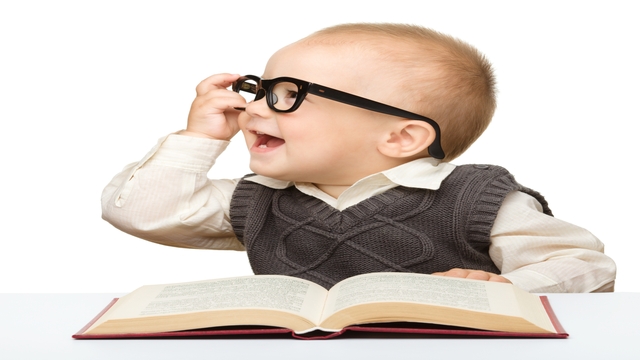 Serhiy Kobyakov/PhotoSpin
Is your baby's vision developing as it should? Could your baby have a vision impairment? Would you know what signs to look for?
"Vision disorders are the fourth most common disability in the United States and the most prevalent handicapping condition during childhood."
It is estimated that only about 14 percent of young children (younger than 6 years of age) have had their eyes and vision examined. (1) In light of this and other statistics
found in the AOA's Statement of the Problem, the American Public Health Association adopted a policy that encourages regular eye examinations for babies at 6 months, 2 years and 4 years. (1)
Parents should also know what is normal for baby's vision, and what is not.
Normal vision development for infants (0-3 months)
Your baby's first eye examination happens just moments after birth to rule out the presence of rare conditions such as congenital cataracts and other neonatal eye problems. Your baby will also receive antibiotic ointment in his eyes to prevent any eye infection that could develop due to bacteria in the birth canal. (2)
For the first two weeks after birth, your baby will see only black and white and gray, and won't be able to focus. However, your baby will start to see colors by the end of the first month. (2)
From 2 to 3 months of age, your baby's eyes begin to move and focus better and they will start to reach for objects, and "tracking" or shifting their gaze to follow the sound of your voice or other objects placed within their visual range – without moving their head.
Up until 4 months, it is quite normal for one eye to drift inward or outward from "normal" visual alignment. However, if your baby has a really severe or constant misalignment, contact your eye care practitioner immediately.
Signs of Vision Impairment in infants older than 3 months
Although it is normal for your baby's eyes to look slightly, occasionally misaligned for the first three months, "after 4 months of age inward crossing or outward drifting that occurs regularly is usually abnormal" (4) and you need to call your doctor.
Your child should also be able to "fixate on an object, maintain fixation, and then follow the object into various gaze positions [track an object]. Failure to perform these maneuvers indicates significant visual impairment." (5)
Observe how your baby's eyes perform together (binocularly) and one at a time (monocularly). "If poor fix and following is noted binocularly after 3 months of age, a significant bilateral eye or brain abnormality is suspected, and referral for more formal vision assessment is advisable." (5)
Sources:
1) Optometric Clinical Practice Guideline: Pediatric Eye and Vision Examination. American Optometric Association. Web. Dec 9, 2012.
http://www.aoa.org/documents/CPG-2.pdf
2) Your Infant's Vision Development. Heiting, Gary OD. All About Vision. Web. Dec 9, 2012.
http://www.allaboutvision.com/parents/infants.htm
3) Developmental Signs of Eye Problems in Babies. Smith, Barbara M.S. OTR. Web. Dec 9, 2012.
http://www.livestrong.com/article/68145-developmental-signs-eye-problems-babies
4) Warning signs of Vision Problems in Children. American Academy of Pediatrics. Web. Dec 9, 2012.
http://www.healthychildren.org/English/health-issues/conditions/eyes/pages/Warning-Signs-of-Vison-Problems-in-Children.aspx
5) Eye Examination in Infants, Children, and Young Adult by Pediatricians. American Academy of Pediatrics Committee on Practice and Ambulatory Medicine and Section on Ophthamology et. al. Policy Statement. PEDIATRICS Vol. 111 No. 4 April 2003. Web. Dec 9, 2012.
http://www2.aap.org/sections/ophthalmology/ophthalstatements_files/Vision%20Screening%20Statement%20-%20FINAL.pdf
Reviewed December 12, 2012
by MIchele Blacksberg RN
Edited by Jody Smith