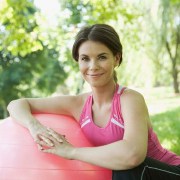 Photo: Getty Images
Make a commitment to burn fat, lose weight and transform your body this year. I won't use the "R" word! Commit to get fit.
Merriam-Webster Dictionary defines commitment as: "the state or an instance of being obligated or emotionally impelled (a commitment to a cause)." This works every time for whatever you are trying to accomplish.
Commit to achieve fat loss with lasting weight loss. What is your body fat percentage? Where are you fat?
Get a health professional to measure your body fat and do so every week to check your progress. If you are burning fat, your body is changing. And, this is the key to lasting weight loss.
If "weight loss only" is your primary motivation, you will be ultimately disappointed. "Weight loss only" motivation focuses on pounds lost instead of body fat burned and inches lost.
Losing large amounts of weight quickly will probably be regained quickly because you haven't built muscle mass and your body fat remains high. You will usually regain more weight than you previously lost. Your health will also worsen with each yo-yo weight loss and regain.
In a Mayo Clinic Diet Blog article, "Don't give up on weight-loss resolutions," by Donald Hensrud, M.D., he encourages readers to focus on changing habits. The doctor gives four areas to target:
1. Be ready to change lifestyle habits
2. Have a plan
3. Enjoy the process
4. Focus on short-term goals while keeping long-term goals in mind
These recommendations tell me to buckle down and really commit to changing my body and daily habits -- for good!
Since weight loss is usually the first response I get from a prospective client regarding fitness goals, I show how weight loss fits into the overall fitness and health puzzle.
And, what works for another person may not work for you. Here is an example:
You will have a better chance of succeeding with your meal plan if you keep a food journal. This will help you keep track of your eating habits and help you make needed changes. By logging your actual food choices, you are holding yourself accountable throughout the day. You will also be forced to plan your meals better.
But, some people are not wired to write down every thing in a journal every day. If you are this type of person, you have to come up with a way to track what you eat.
You could write down what you eat for a few days until you get the hang of your new meal plan. And, so goes the never-ending process of making adjustments as you continue to improve your body and health.
In a National Institutes of Health (part of the U.S. Department of Health and Human Services) article, "Making Your Resolutions Stick, How to Create Healthy Habits," Dr. Linda Nebeling gives the following advice:
"One challenge with New Year's resolutions is that people often set unrealistic goals. They can quickly become frustrated and give up," says Nebeling. "Any resolution to change needs to include small goals that are definable and accompanied by a solid plan on how you'll get to that goal."
These are my recommendations on how to be realistic and attain your goals:
1. Focus on fat loss and health. Don't buy into the deception of quick weight loss infomercials. These companies keep getting richer and people keep regaining weight!
You will see your body lean out as you build muscle mass. Your body also shrinks because muscle takes up less space than fat. Your metabolism will speed up, you will begin to lose weight and it will stay off.
2. Establish healthy eating habits that you can maintain over time. Anyone can lose 15 pounds in 10 days by starving. But, that kind of calorie restriction cannot be maintained. You would regain the lost pounds as soon as you began to eat regularly again. Your daily calorie needs should be based on your metabolic rate, activity level and goals.
3. Never stop exercising. Its unrealistic to think you can become lean and healthy without regular exercise and an active lifestyle. Build muscle mass. You won't get bulky! As a woman, you would have to lift very heavy weights for a long time to get bulky.
And, don't go overboard on cardio exercise. Too many long, slow cardio sessions (like 60 minutes) will waste away your precious muscle mass. Interval cardio sessions work better to burn fat. And, they are much shorter. Twenty minute sessions will get the job done.
Commit to your exercise and nutrition program and make needed adjustments. Start your work-in-progress to burn fat and transform your body and health.
Sources:
Mayo Clinic Diet Blog, Article, "Don't give up on weight-loss resolutions" Donald Hensrud, M.D.
http://www.mayoclinic.com/health/weight-loss-resolutions/MY01657
National Institutes of Health, part of the U.S. Department of Health and Human Services, article, "Making Your Resolutions Stick, How to Create Healthy Habits," Dr. Linda Nebeling
http://newsinhealth.nih.gov/issue/Dec2010/Feature1
Mark Dilworth, BA, PES is a Certified Personal Trainer and former NCAA Division I athlete. Mark is the owner of My Fitness Hut, Her Fitness Hut and Sports Fitness Hut.
Mark's Fat Blaster Athletic Training System has been proven to give his clients the fit, sculpted and athletic-type bodies they want. Visit Mark's main site:
Your Fitness University http://yourfitnessuniversity.com
Reviewed January 4, 2012
by Michele Blacksberg RN
Edited by Jody Smith