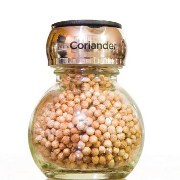 Photo: Getty Images
Do you ever get tired of reading labels on vitamin supplements to figure out which ones are best for you? Here are 10 types of seeds that will give you all the nutritional value you need and they taste good too:
Alfalfa seeds are known to be high in protein, calcium plus other minerals; they also contain vitamin A, B, C, D, E and K. They extend appetite which is helpful for diabetes, anemia and weight issues. Alfalfa seeds are also used for helping problems such as increased urination, indigestion and bladder disorders. In addition, these seeds have been known for increasing breast milk, helping with premenstrual syndrome and lowering cholesterol levels.
Chia seeds are great for the digestive system. Just two tablespoons gives you 4 grams of protein, 205 milligrams of calcium, and 7 grams of fiber. These seeds absorb water so when they are consumed with liquid they thicken and become extremely filling, therefore making you feel full. That's why chia seeds have sparked controversy about helping with weight loss.
Cilantro/Coriander seeds are often called the healing spice in parts of Europe and India. Research studies confirmed that coriander seeds can help control blood sugar, cholesterol, and free radical production in animals. In addition to having a good source of dietary fiber, iron, magnesium, and manganese, coriander is known to fight salmonella.
Cumin seeds, because of their good source of iron and manganese, promote energy and immune function, especially for menstruating women. They are also beneficial for your digestive system and may help prevention of certain cancers. Cumin is available both in its whole seed form and ground into a powder.

Flax seeds must be ground before eating to unleash the nutritional values, but the extra step is worth it. Flax seeds can improve digestion, reverse constipation, stabilize glucose levels, improve cardiovascular health, and inhibit tumor formation.
Hemp seeds have been used by humans for hundreds of years. Hemp seed from plants that can be bought legally differs from cannabis plants that are illegal (marijuana). They are a perfect protein supplement and a great source of the essential fatty acids omega-3, omega-6, and omega-9. Hemp seed oil has been attributed to helping: increase energy, soften skin, relieve arthritis and normalize blood cholesterol.
Mustard seeds are known to have anti-microbial effects and can damage most food borne pathogens effectively. A compound found in mustard seeds, isothiocyanates, has been found to stop the growth of cancer cells. High content of magnesium helps people with high blood pressure, asthma and may give relief from certain symptoms of rheumatoid arthritis. Mustard is also said to be good for increasing metabolism and providing relief from migraines.
Pumpkin seeds are a very good source of the minerals magnesium, manganese and phosphorus, and are a good source of iron, copper, protein, and, zinc. Studies have shown these seeds to have anti-inflammatory benefits in arthritis, lowering cholesterol, preventing osteoporosis, and promoting prostate health in men.
Sesame seeds are a very good source of manganese and copper, and are also a good source of calcium, magnesium, iron, phosphorus, vitamin B1, zinc and dietary fiber. Besides having cholesterol-lowering effects, sesame seeds can help in preventing the airway spasms in asthma, lowering high blood pressure, preventing migraines, and restoring sleep patterns. Because sesame seeds are rich in copper, they are said provide relief for rheumatoid arthritis.

Sunflower seeds are an excellent source of vitamin E (containing 50 percent of the daily value in 28 g), sunflowers seeds also contain thiamin, vitamin B6, vitamin E, magnesium, copper, manganese and selenium. They are also said to help lower cholesterol levels and risk of certain cancers.
For a complete list of health benefits and delicious recipes, go to http://www.wholefoodsmarket.com/
Information on each seed can be found at http://www.whfoods.com/foodstoc.php
http://www.prevention.com/health/health/health-experts/3-reasons-to-eat-chia-seeds/article/9432323b0b803110VgnVCM20000012281eac____
http://healthbenefits-of.org/2011/06/the-health-benefits-of-sunflower-seeds.html
Reviewed July 1, 2011
by Michele Blacksberg R.N.
Edited by Alison Stanton