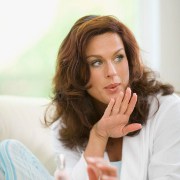 Photo: Getty Images
When most women look at their nails they are thinking about how they look cosmetically. A chipped or broken nail can mean anything from a grabbing a nail file to a costly trip to the manicurist.
We all know these aren't serious health issues, but do you ever stop and really look at the color or the texture of your nails beneath the polish? The ripples or bumps?
Surprisingly, your nails can tell a lot about your health if you know what to look for.
Most doctors have a trained eye for checking out a patient's nails. For example, a bluish tint could mean you're not getting enough oxygen.
Pale nail beds might indicate anemia. And hopefully, your physician checks out your nails during a routine check-up.
But, you don't have to wait for your next appointment. You can do yourself a huge favor by examining your nails more closely, to recognize the signs of unhealthy nails.
Here are 15 examples provided by WebMd and the Mayo Clinic that may signify serious health issues:
1. White nails - Liver diseases
2. Yellowish, thickened, slowing growing nails - Lung diseases
3. Yellowish with slight blush at base - Diabetes
4. Half-white, half pink - Kidney disease
5. Red nail beds - Heart disease
6. Pale or white nail beds or spoon nails - Iron deficiency, Anemia
7. Pitting or rippling on nail surface - Psoriasis or Arthritis
8. "Clubbing" increase in tissue around the ends of fingers - Lung diseases
9. Irregular lines at base of nail fold - Lupus or connective tissue diseases
10. Dark lines beneath the nail - Melanoma
11. Opaque with dark band around tip - Congestive heart failure, Diabetes, Liver disease, Malnutrition
12. Indentations that run across your nails (could be from an injury) - Uncontrolled diabetes, Circulatory diseases
13. Loose or separation from nail bed - Injury or infection, Thyroid disease, Drug reactions, reactions to nail hardeners or acrylic nails, Psoriasis
14. Dry, brittle nails that crack easily - Thyroid disease
15. Pitting or holes in nails, dark brown streaks beneath the nail and cuticle, or long-standing warts on the nail bed - Skin cancer, Squamous cell cancer
The examples are not definite indications that you have a certain disease, but if you notice any changes, you should point it out to your doctor. Just be more aware -- your nails may be trying to tell you something.
Sources:
WebMD - Healthy-Beauty - What Your Nails Say About Your Health. Web. 30, September, 2011
http://www.webmd.com/healthy-beauty/guide/what-your-nails-say-about-your-health
Mayo Clinic - Adult Health - Slide show: Fingernails — 7 signs of possible health problems. Web. 30, September, 2011 http://www.mayoclinic.com/health/nails/WO00055&slide=2
Reviewed September 30, 2011
by Michele Blacksberg RN
Edited by Jody Smith