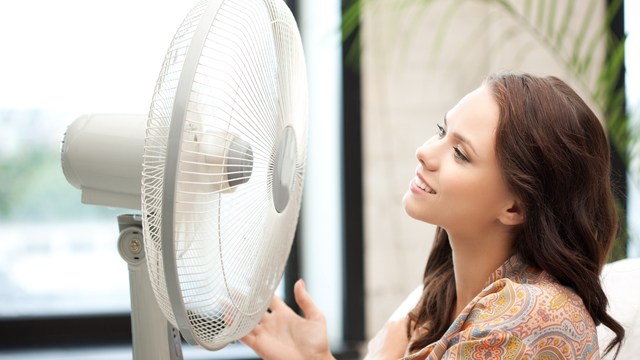 Lev Dolgachov/PhotoSpin
Parts of North America are already enduring scorching heat. Spending the next few months with your face in front of an air conditioner might seem like the way to go. But for those of us who have to go out once in awhile, or who don't have air conditioning, other strategies are needed.
When you think of Canada you might feel wistful, picturing bracing temperatures and igloos. But plenty of Canadians suffer from soaring temperatures in the summer too.
Where I live in southwestern Ontario, we're facing a week of 90 + degrees F with high humidity. With the weather doing this already, things are not going to cool down till summer is over.
When I was growing up, nobody had an air conditioner. Granted, this is going back 40 or 50 years but the point is we did manage to survive it and even enjoy the summer.
Part of that could be chalked up to a kid not knowing any better and making the best of the situation, of course. But the takeaway here is, there's hope for a life during the summer even without air conditioning.
It's not that we were against the idea of air conditioning, and certainly if there was a frosty spot, we'd take advantage of it. A few stores back in the olden days were air conditioned, and the numbers of customers no doubt multiplied in the hot weather.
People who didn't really want to buy anything might do some indoor window shopping, and those who were shopping might decide to really slow down and stretch the experience in the cool air.
Back then, the lucky ones with air conditioning had one box in one window. If you were lucky your bedroom was the only window it would fit in. Most kids weren't that lucky.
When our family eventually got an air conditioner, it was in my parents' bedroom. Score one for parents, zip for the kids. On really hot days we'd be allowed to hang out in there, but mostly we did alot of sweating. People just got used to being damp all the time.
Here are some tips for those who don't not have air conditioning in their homes.
Block the sun with shutters or blackout drapes. Pay special attention to the western and southern areas of your house.
A well-insulated attic is best, but a fan in your attic blowing out hot air will help keep things cool.
Vines and perennial plants on or near your hottest walls offer some protection from the sun. Plant trees in the southern and western areas around your house for natural shade.
Open windows at night for the cooler air. Eastern and northern facing windows will draw in cooler air with box fans. Box fans in your southern and western facing windows blow out hot air. A cross breeze helps cooling.
Reverse electric ceiling fans, so they run counter-clockwise to draw hot air upwards.
Use LEDs or compact fluorescent light bulbs instead of incandescents.
Don't use your stove or oven anymore than necessary. Use a convection oven, microwave or toaster oven when you can. If it's not too hot outside, have a barbecue.
Loose clothing, especially cotton, wick moisture away from your skin. Light colored clothing is best.
Drink lots of fluids, especially water, to help your body cool itself with perspiration. Wrap a cold, wet towel around your neck to help keep your body temperature down. A cool shower will help wash off the sweat, and help you stay cool.
Sources:
10 Ways to Keep Your Home Cool in Summer Without Air Conditioning. HVAC.wyotech.edu. Retrieved June 24, 2013.
http://hvac.wyotech.edu/articles/10-ways-to-keep-your-home-cool-in-summe...
Visit Jody's website and blog at http://www.ncubator.ca
Reviewed June 25, 2013
by Michele Blacksberg RN