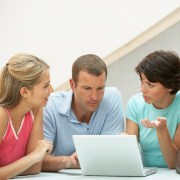 Photo: Getty Images
Today, we're in an age of patient advocates, where people speak publicly—and all over the Internet—about serious medical conditions.
It wasn't long ago when the waiting rooms in doctor's offices were full of people, and everyone had their noses in magazines. Now, people talk openly about why they are there. They share. Some even meet in online communities before going to see a specialist.
How far we have come!
Betty Ford, who died July 8, 2011, at age 93, is being credited for helping to get the public conversation started. In the 1970s, as America's first lady, she spoke openly about her breast cancer diagnosis, a time when virtually no one did. She spoke about her alcoholism in the 1980s, when the topic was taboo. She was the wife of a conservative Republican from Grand Rapids, Michigan, a mother of four and a homemaker, yet she spoke out from her platform at the White House and remained in the public eye forever after. Women listened. They began having mammograms more often and sought help with addictions for themselves and for family members. Millions of lives were changed as a result.
Betty Ford made a difference by going public.
Now, more and more of us do that right here on the Internet, and isn't that a good thing? Some will worry about giving up their privacy. Hopefully, laws will protect us, although I know they are far from perfect. But, in my case as a leukemia survivor, I believe it's worth it to make a difference by supporting others and spurring them to get the right care. Maybe you have spoken out, too.
We have Betty Ford to thank for being our mentor. When it comes to inspiring others for better health, it is not about your politics, it's about doing what's right.
We all have a health issue at one time or another. If our disclosure and sharing can help another, why not speak out?
About the author:
Andrew Schorr is a medical journalist, cancer survivor and founder of Patient Power, a one-of-a-kind company dedicated to bringing in-depth information to patients with cancer and chronic illness. Audio and video programs, as well as transcripts, help patients make informed decisions to support their health in partnership with their medical team. Patient Power is at www.PatientPower.info and on Facebook. Schorr is also the author of "The Web Savvy Patient: An Insider's Guide to Navigating the Internet When Facing Medical Crisis." http://www.websavvypatient.com/
Edited by Kate Kunkel