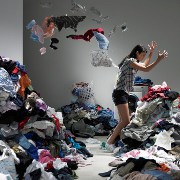 Photo: Getty Images
Sure, we all know how much better we feel after clearing a cluttered mess. Personally, I am the queen de clutter, and although I can look at my clutter and note how un-anesthetically pleasing it is, I got to wondering if the effects of clutter go beyond the eye.
With a little research I realized that clutter isn't just an eyesore, it can affect many other areas of your life and health!
1. Upper respiratory problems: Dust, dirt and dander make up some of the household dangers that contribute to upper respiratory problems. Not only does a clean, clutter-free home make us feel warm and fuzzy inside, it also keeps the warm and fuzzy dust bunnies out of our respiratory system, promoting healthier lungs and airways!
According to the Asthma and Allergy Foundation of America, household dust not only contributes to asthma attacks but has also been found to actually cause lung inflammation.
2. Cortisol: Ever spend a really long time looking for something? Maybe it's something really important and you end up getting into that nervous, frantic search mode for minutes, days or even weeks!
We all know that stress is bad for us. Stress can release the hormone cortisol, causing us to gain weight. Keeping free of clutter makes it easier to remember where our belongings are, eliminating unnecessary stress and allowing us to spend more of our precious time and energy doing things that are worth while!
3. Fitness: If you can't find it you wont use it. This goes for that exercise ball, dumb bells, running shoes, tennis rackets and anything else that could provide reasons to exercise! If it's in plain view to see every day you'll remember that you spent money on these things for a reason!
I put my dumbbells out in the open so it's that much easier to pick up if I'm lounging around the house and have a few extra minutes. (Note that I do NOT use the dumbbells if they're covered with clothing, and I cannot see them).
Heck, light cleaning for one hour can burn 175 calories!
4. Visual sensory overload: Okay, I know it sounds kind of silly but think about it this way. Have you ever been walking on a really busy street while trying to carry on a conversation and found it nearly impossible?
Visual sensory overload is kind of like that. There's so much going on around you, that you find yourself easily distracted, losing focus and becoming overall less productive!
5. Confidence: Taking control of your physical space improves confidence. Having confidence promotes self worth and provides for a healthy mental state.
Keeping up your personal space gives you a sense of pride, especially if you happen have a surprise visitor. If someone decides to pop by, or you want to have a couple of guests, there's no need for shame or shuffling to clean in a clutter free, dust free home!
6. Blocked energy flow: According to about.com's information on Feng Shui, "Clutter is low, stagnant, and confusing energy that constantly drains energy from you. Depending on the feng shui area of your home where your clutter is located, it can also negatively influence, or even completely block, the flow of events in many areas of your life."
The absence of physical clutter helps relieve mental clutter. If you can clear your physical world, you can clear your mind.
It's just easier to think and live in a clutter-free, distraction-free area. Take control of your habitual cluttering and improve your health!
Sources:
Calories Burned Cleaning - Light (Dusting, Straightening Up, Changing Linen, Carrying Out Trash. (n.d.). Calorie Counter | Free Online Diet Program | Nutrition Data. Retrieved October 3, 2011, from http://caloriecount.about.com/calories-burned-cleaning-a67
House Dust and Asthma. (n.d.). Asthma and Allergy Foundation of America. Retrieved September 28, 2011, from
http://www.aafa.org/display.cfm?id=8&sub=17&cont=535
Ruben, H. (2011, February 9). 3 Ways Clutter Affects Your Health & 3 Tips To Eliminate It Right Away | Hillary Rubin's Site for Helping Women Get Real About Living a Healthy Life | Where You Overcome Adversity, Abuse, + Trauma and Build Unshakable Self Confidence, Self Esteem, Self Wo. Hillary Rubin's Site for Helping Women Get Real About Living a Healthy Life | Where We Alchemize Adversity into Action + Catalyze Catastrophe into Courage.. Retrieved September 28, 2011, from
http://hillaryrubin.com/uncategorized/3-ways-clutter-affects-your-health-3-tips-to-eliminate-it-right-away
Tchi, Rodika. (n.d.). Clear Your Clutter with Feng Shui - How to Clear Your Clutter with Feng Shui. Feng Shui Tips - How To Apply Feng Shui - Bedroom Tips, Colors, Home, Office & Garden Feng Shui . Retrieved September 28, 2011, from http://fengshui.about.com/od/thebasics/qt/clearclutter.htm
Reviewed October 3, 2011
by Michele Blacksberg RN
Edited by Jody Smith