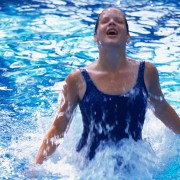 Photo: Getty Images
Veteran long distance swimmer, Diana Nyad's motto is ʺ60 is the new 40.ʺ And this week, Nyad proved it. Nyad will turn 62 years young on August 22.
On Sunday, August 7, Nyad attempted to break a long distance swimming record by swimming more than 103.5 miles from Havana, Cuba to the Keys of Florida without a shark cage. Thirty-three years ago, Nyad attempted the same route but failed. However, one year later she swam 102.5 miles from the Bahamas to Florida.
According to the Miami Herald, Nyad ended her marathon swimming endeavor at 12:45 a.m. Tuesday morning. At 61 years young, Nyad swam more than 58 miles in approximately 30 hours.
However, Nyad and many of her supporters feel she succeeded. Nyad succeeded because she inspired us.
In an interview with the Los Angeles Times, Eddie O'Connor, sport psychologist said, "It's not so much about achieving your goal but how you went about achieving your goal. When you can focus on the process and give 100 percent, you walk away with such a sense of growth and accomplishment, knowing that you gave it your best. She pushed her mind and her body, and she's not going to have any regrets."
From Montreal to Sydney, Nyad's actions and determination invigorated us.
In an interview with CNN, Nyad said, "You have to live your life with passion, you show your will, you feel proud of yourself when you go to bed at night."
Nyad had to compete against icy government relations between the USA and Cuba, four to five foot waves, sharks, jelly fish, a bum shoulder, an asthma attack, and being submerged in salt water for over 30 hours.
But, the one thing Nyad could control was her training and her positive attitude. Last January, Nyad began training and practice for 12 hours straight. Prior to January, Nyad hadn't been in the water in more than 30 years.
On her Facebook page, Nyad said, "It's hard because I felt like I had it in me. It felt like this was my moment. I don't feel like a failure at all. But we needed a little more luck."
Nyad's actions told us it is never too late. It is never too late to reach for your dream or never too late to take steps towards a long forgotten goal.
When most people are thinking about collecting Social Security or retirement, Nyad decided she was going to re-attempt something she tried thirty-three years ago.
In the words of motivational speaker, Les Brown, "Shoot for the moon. Even if you miss, you'll land among the stars."
Nyad is definitely swimming among the stars.
Sources:
Clark, C. Florida Keys. Miami Herald. Retrieved August 10, 2011 from
http://www.miamiherald.com/2011/08/09/2352403/nyad-ends-2nd-attempted-swim-from.html
Diana Nyad back in U.S. after abandoning Cuba to Florida swim - CNN.com. CNN.com - Breaking News, U.S., World, Weather, Entertainment & Video News. Retrieved August 10, 2011 from
http://www.cnn.com/2011/HEALTH/08/09/nyad.103.mile.swim/index.html
Stein, J., & Times, L. A. Diana Nyad's Cuba-to-U..S. swim can teach us lessons - latimes.com. Los Angeles Times - California, national and world news - latimes.com. Retrieved August 10, 2011 from
http://www.latimes.com/health/boostershots/la-heb-diana-nyad-20110810,0,4550770.story
Reviewed August 11, 2011
by Michele Blacksberg R.N.
Edited by Jody Smith