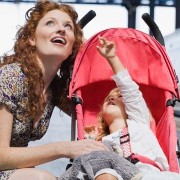 Photo: Getty Images
Several years ago, my husband used to call me Supermom. And he meant it in the best way possible. My three children were ages 6 months, one and two years old. People admired how I held it together, had the house in order, dinner on the table and spent real time with my kids rather than sitting them in front of the television while I surfed online.
But I hated the moniker. Supermoms don't really exist, do they? And if they do, would you want to hang out with them? I wouldn't. All that perfection would be such a downer to the rest of us mere mortals who screw up on a regular basis. When someone's up on a pedestal, the only way off it is generally down and that's not a future I'd look forward to.
In reality, I was dying to go back to work. In the end, I had no regrets in giving up my career and salary so I could raise my own kids, nurse as long as I wanted without anyone telling me my "pumping break" was up and a lousy commute during our frozen winters was easy to say good-bye to. But after four years, something was missing. It was work -- good old solid graft; earning a salary and having to be accountable. Using my brain in the way I used to and having something else to talk about than Barney and Elmo and playdates. Going back to work -- and being able to work from home -- was necessary to make me whole again. And no, that doesn't mean that every stay-at-home parent is unfulfilled or feeling a bit empty -- indeed, being an at-home mother is a calling for many. But not for many others -- something that a recent study confirms.
The University of Washington followed statistics from the U.S. Department of Labor concerning 1600 married women in 2006. The average age of the women was about 40. However, these same women were also interviewed in the 1980s regarding their attitudes toward working moms. It turned out that the women who supported combining careers and parenthood were more likely to suffer depression that the women who were initially against it -- but turned out to be working moms twenty years later.
The title of Supermom sounds good on paper -- really good! But for me, and many of the women in this study, it's a title with too many stipulations. We must succeed at everything -- child-rearing, being a wife, a school leader, a community advocate -- and in great mind-and-body shape on top of it all! So what happens when we tire, or get sick? When we can't manage all the volunteerism anymore because life just got too busy? We feel embarrassed and guilty (and maybe a little angry) that the crown of Supermom was ever given to us in the first place.
Further information derived from this study was that stay-at-home moms were more likely to be depressed by the age of 40 than working moms, no matter what they thought of motherhood before they had children. One of the main reasons, the study showed, is that working moms were far more capable of realizing their limitations and more realistic in terms of family life. They accept that sacrifices have to be made and this lessens their guilt in terms of combining work life with home life.
As for the much touted expression that staying at home with the kids is a "luxury" -- that's not the case with many families. The loss of one income is difficult for any family to deal with and often includes the loss of a second car, loss of any disposable income whatsoever and feelings of isolation and loneliness for the stay-at-home parent. It's the hardest job they'll ever love. And that is perhaps why they feel more guilt than other parents. They feel that by staying at home, so much more is expected from them.
We're not superhuman and we're not Supermoms. We're just ... us ... doing the best we can on a day-by-day basis, for our children, our partners, our employers and communities we love. So instead of us all labeling ourselves as working moms, at-home moms or (heaven forbid) Supermoms we need to acknowledge that all aspects of parenting are difficult and that these titles separate rather than unite us. To quote Dorothy Zbornack in an episode of the Golden Girls -- "It's not easy being a mother. If it were easy, fathers would do it ... !"
This study is being spoken about at the American Sociological Association annual meeting being held right now. For more on this conference, click here: http://www.asanet.org/AM2011/
Tell Us
How do you feel about this Supermom title? Do you like it or does it make you feel pressured to be perfect?
Edited by Jody Smith