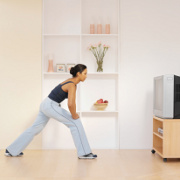 Photo: Getty Images
Dr. Mehmet Oz is known for his interaction with his viewers. Back in the days when he would come on to the Oprah show he invited questions from people in the audience. He carries on this relationship with the audience of his own "The Dr. Oz Show" and online, where he fields questions emailed to his website at http://www.doctoroz.com.
This interaction can get pretty lively and no subjects are off-limits. He encourages his readers and listeners to bring forth their most embarrassing quandaries, and responds with candor, humor and a wealth of information.
In a media phone interview held on Thursday, September 8, 2011 he gave insight into what fuels his personal crusade for health. He said that he believes that doctors have a responsibility to get the message of health out to the people.
As Dr. Oz moves into the third season of his television show on Monday, September 12, he continues to employ an idea that he learned from Oprah Winfrey. In his interview he said that he'd noticed as a doctor that so often when people are in poor health, they won't make necessary changes based on what they know.
Instead, people become motivated to improve their lives and their habits based on how they feel. Oprah showed him that when she connected emotionally with her guests and viewers, this is what opened the door to change.
Dr. Oz has big plans for his television show this season. He is excited about the opportunity he'll be offering for viewers to take part in a competition that involves a seven step program of self-improvement and a payoff of one million dollars.
He made special mention during the interview of a discussion on pandemics that is planned with some folks who were involved in putting together the movie "Contagion". Dr. Oz is personally convinced that a similar type of pandemic situation is potentially on our doorstep, and in typical Dr. Oz fashion, believes that discussion and interaction is an important part of any solution.
To women, Dr. Oz expressed his view that in many ways, they are healthier than women were fifty years ago in this country. Our hi-tech advances have brought about a decrease in many health problems, and is light-years ahead in terms of treatment of disease. But he balanced this with his belief that when it comes to our low-tech repertoire (handling of obesity, cancer, heart disease and lifestyle problems) we aren't doing so well.
More people are surviving health issues, but people are also getting more of some of the serious diseases than ever before. People are still getting sick, and in some instances getting sicker than they used to, but they're surviving more conditions. He'd like to see gains made in the area of avoiding becoming sick in the first place.
And the solution to this situation according to Dr. Oz lies at the homefront, not with the government. Our health battle needs to be won in our homes, as we tackle our individual lives and instill health into them.
The basics, to him, are things like avoiding simple carbohydrates which are enriched flour and other white foods, and increasing our intake of vitamin D and omega-3 fats. It's essential that we understand the value of food, not as simply a source of calories but as a source of nutrients to keep our bodies and brains healthy.
He recommended that women keep an eye on their hormones, through regular testing. Changes in progesterone and estrogen levels for instance, which come as we age, can affect many areas of life.
He called progesterone "valium for the brain" as it keeps us emotionally balanced. As progesterone levels decrease and while estrogen has not dropped in a corresponding way, we can become bothered by things that didn't bother us in the past.
Dr. Oz believes that organized medicine should always be looking for truth. He stressed that there is a difference between truth and facts -- facts can be manipulated.
His pursuit of truth, and his desire to share what he's learning with as many people as possible, has spawned more than 400 publications written by him, not to mention his television and online relationship with the public. And he can't wait to dive into his third season to keep the ball of truth rolling.
Read more about Dr. Oz:
Dr. Mehmet Oz. Oprah.com. Web. 8 Sept. 2011.
http://www.oprah.com/contributor/dr-mehmet-oz
Dr. Oz talks, new season starts Monday, Sept. 12. Dailypress.com. Web. 8 Sept. 2011.
http://www.dailypress.com/health/dp-dr-oz-talks-20110908,0,6135954.story
'Dr. Oz' Premieres Sept. 12 On WISN 12. wisn.com. Web. 8 Sept. 2011.
http://www.wisn.com/news/29120503/detail.html
Source:
Oz, Dr. Mehmet. Media phone interview. 8 Sept. 2011.
Reviewed September 9, 2011
by MIchele Blacksberg R.N.