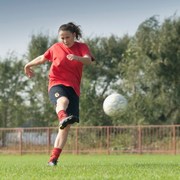 iStockphoto/Thinkstock
Athletes are vulnerable to getting concussions when they are involved in their sports.
A woman who has a concussion is at greater risk than a man for having her injury misdiagnosed because some of her symptoms differ from a man's.
The January edition of the Journal of Athletic Training reported similar findings on a study involving more than 800 high school athletes who suffered from concussions over a two year period.
Both male and female athletes may experience common symptoms like nausea and headache. But from that point, the sexes tend to diverge.
Men are more prone to cognitive problems like becoming disoriented, or experiencing amnesia. Women are more likely to be sensitive to light or noise, or to experience seemingly unrelated symptoms like being tired.
It's not unusual for women who present with these types of concussion symptoms to either be dismissed or ignored, or to be misdiagnosed as stress or depression.
R. Dawn Comstock, associate professor at the Ohio State University College of Medicine and an author of the study being reported, said that concussion diagnosis is among the most challenging responsibilities a trainer must carry.
Dr. Nicole M. La Voi from U of M's Tucker Center for Research on Girl and Women in Sport said that it's important to learn more about the similarities and differences between male and female concussion symptoms.
Women may experience nausea, headache and light sensitivity, according to an article on Kare11.com.
When given time, the brain will heal but if a concussion is not recognized, a woman athlete will very likely be continuing on as usual and her brain may not receive the time and protection needed for healing.
Dr. La Voi encouraged athletes, coaches and parents to become more educated and aware of how to recognize a concussion.
An article in Theglobeandmail.com indicated that concussion among women are more common than among men, and tend to be more severe.
Women are at three times the risk of men for concussion while engaged in athletic activities. Research in 2005 illustrated that women were at twice the risk for cognitive problems as men are.
Concussion is also called mild traumatic brain injury. A concussion can happen when your head experiences a rapid change either speeding up or slowing down. This causes the brain to move or rotate within the skull.
Symptoms from this disruption, amnesia, confusion, headache, as well as noise or light sensitivity, can go on for as short a time as a few days to as long a duration as several months.
Sources:
Female Athlete's Concussion Symptoms May Be Overlooked. Chronicle.com. Retrieved March 15, 2012.
http://chronicle.com/blogs/players/female-athletes-concussion-symptoms-m...
U of M studies concussions among female athletes. Kare11.com. Retrieved March 15, 2012.
http://www.kare11.com/news/article/941968/14/U-of-M-studies-concussions-...
Females more susceptible to concussion, studies suggest. Theglobeandmail.com. Retrieved March 15, 2012.
http://www.theglobeandmail.com/sports/hockey/concussions/females-more-su...
Visit Jody's website and blog at http://www.ncubator.ca and http://ncubator.ca/blogger
Reviewed March 16, 2012
by Michele Blacksberg RN