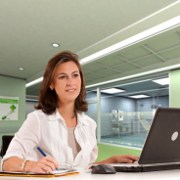 Photo: Getty Images
You may be admitted to a hospital in any number of ways. Under your own steam or not, conscious or not. You might walk or drive. A friend or family member might take you. An ambulance might transport you.
What happens once you get there will depend on your condition, and your reasons for going. For instance, if you have pain or fever and can't get in to see your regular doctor, or you're out of town and can't reach your doctor, you can go to the hospital.
Perhaps you've chosen an elective admission, which is an option if you know you're going to be in the hospital at some point, and want to get the admission process done beforehand.
If possible, have a list with information on any medications you are taking, and any allergies or other medical problems. Have identification and insurance cards, and the name and phone number of your doctor. Be prepared with your medical history. If possible, bring personal items with you in case you'll be staying awhile.
Medical staff will determine whether or not you need admittance. This might be done by your doctor, a covering doctor, or an emergency department doctor.
The decision to admit or not will be weighed with several considerations. The seriousness of your condition and your medical history will be factored in. Your blood pressure, heart rate, temperature and oxygen content of your blood will be measured.
A diagnosis will be arrived at, which means they'll determine what they think you have. A prognosis will be reached. This means they'll assess what effects your condition is having, determine what treatment seems appropriate and what results they expect.
They'll evaluate whether you need to stay or whether your treatment can be done at home. They'll look at your insurance.
If the staff decides you should be admitted and you on the other hand have decided that you don't want to be, it's ultimately your choice. But be aware that if you decide not to be admitted, you may have to sign out against medical advice. Then your evaluation at the hospital up until this point may not be covered by your insurance company.
If you stay, you'll go through the admission process. Your name, address, birth date and other information will go into the computer.
A plastic bracelet will be applied to your arm, carrying your name, age, birth date, room number and medical record number. If you have allergies, you'll have a second bracelet detailing these.
Once all forms are completed and signed, you have been admitted. Enjoy your stay.
Resources:
Hospital Admissions
http://www.emedicinehealth.com/hospital_admissions/article_em.htm
Admission to the hospital
http://www.surgeryencyclopedia.com/A-Ce/Admission-to-the-Hospital.html
Visit Jody's website and blog at http://www.ncubator.ca and http://ncubator.ca/blogger