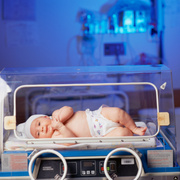 Photo: Getty Images
If your baby is very ill within its first days of life, perhaps born premature or with health problems, the Neonatal Intensive Care Unit, also known as an NICU, is the next stop. It's a busy and intimidating place, full of machines and instruments that are foreign to most of us.
A tour of an NICU before having your baby is a good idea. Don't worry, this doesn't mean you think your child is going to be born into a health crisis. But if you and your baby should need to spend time in the NICU, knowing your way around couldn't hurt.
The NICU may go by other names, for instance Natal ICU or Special Care Baby Unit (SCBU). It might also be called an Intensive Care Nursery (ICN), a Newborn Intensive Care Nursery or a Special Care Nursery.
Infants in the NICU are watched over by nurses day and night. In fact, a primary nurse will be assigned to an individual family to take care of the baby and to keep the parents informed as to how the baby is doing. The NICU staff includes specialists such as neonatologists, pediatricians, nutritionists, as well as respiratory, physical and occupational therapists.
NICUs are set up with feeding tubes, monitors and ventilators. The infants are in incubators, with heaters overhead called isolettes. An NICU is militant about keeping germs and other toxins away from vulnerable infants, and washing hands is a must before entering.
Visitors are few, to prevent possible infection and to keep the place calm enough for sensitive new babies. Young siblings may not be allowed to come in, though parents are encouraged to spend as much time with their babies as possible. The connection between an infant and its parents has a significant impact in the infant's surge toward health.
You can talk and sing to your baby or read a story. Leave a recording of your voice to be played when you have to be away from the NICU.
If your baby is well enough to take a bottle, you can feed your child. If you will be breastfeeding, you can pump milk to be given when you are away.
Decorate your temporary home away from home a bit. Perhaps you'd like to use your nursery bedding from home or put up cards of well wishes on the incubator itself.
As your baby becomes stronger, you may be able to move from a touch in the incubator to holding your child. Skin to skin contact helps form bonds and is reassuring for both you and your baby.
Resources:
When Your Baby's in the NICU
http://kidshealth.org/parent/system/ill/nicu_caring.html
Getting to Know the Neonatal Intensive Care Unit (NICU)
http://www.emedicinehealth.com/premature_infant-health/page6_em.htm
10 Coping Tips for Parents with a Baby in the NICU
http://health.howstuffworks.com/pregnancy-and-parenting/baby-health/special-needs/10-coping-tips-for-parents-with-nicu-baby.htm
What is a NICU?
http://www.wisegeek.com/what-is-a-nicu.htm
Visit Jody's website and blog at http://www.ncubator.ca and http://ncubator.ca/blogger