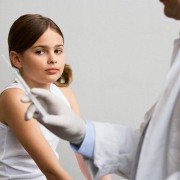 Photo: Getty Images
A lot of H1N1 and flu vaccines has been recalled after cracks in the vials of vaccine were discovered. This has caused some vials to break in addition to being a contamination risk.
Anyone who was vaccinated in the week before December 17, 2010 with batch number 111812P1 made by Novartis Vaccines and Diagnostics, Inc, should make an appointment for a clinical assessment.
Anyone previously vaccinated with a dose from this lot who did not experience side-effects should be unaffected and no further action is required.
About Fluvirin Vaccine
The fluvirin vaccine contains influenza viruses from the following strains: H1N1, H3N2 and B/Brisbane/60/2008. The viruses are grown in chicken embryos. Other ingredients are thimerosal (a mercury derivative), betapropriolactone, nonoxynol 9, neomycin, polymixin and formaldehyde. Buffer solution is also added, in addition to potassium dihydrogen phosphate, disodium hydrogen phosphate, sodium chloride and water.
There is no pre-clinical safety data on this vaccine.
Side-Effects of Fluvirin
Common side-effects include headache, sweating, myalgia, arthralgia, fever, malaise, shivering, fatigue, redness, swelling, pain, ecchymosis induration. Other less common reactions include: transient thrombocytopenia, transient lymphadenopathy (blood disorders), allergic reactions, angioedema, neuralgia, paraesthesia, febrile convulsions, neurological disorders such as encephalomyelitis, neuritis and Guillain-Barre Syndrome (a paralyzing disorder), vasculitis, skin conditions such as rashes, and/or sensitisation reactions to thimerosal.
Contraindications
Anyone who is allergic to any of the ingredients should not have the product, including allergies to antibiotics like neomycin, or anyone who has allergies to egg products, anyone that has febrile convulsions or an infection. There is only limited safety data about the use of this flu vaccine in pregnancy. It may not work in people with compromised immune systems.
Sources: http://www.fda.gov/BiologicsBloodVaccines/SafetyAvailability/Recalls/ucm238117.htm
http://www.medicines.org.uk/EMC/medicine/15018/SPC/Fluvirin/#PRODUCTINFO