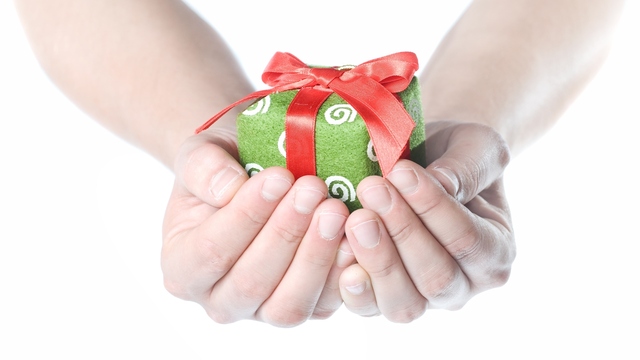 Iaroslav Danylchenko/PhotoSpin
It sometimes seems like all we have talked about the past few weeks is to spend as much as possible and getting the best deals we can. We're urged to spend to help the economy and give as much as possible to our loved ones.
But that subject isn't really about giving or gifting. It's about spending money on things we don't need, and perhaps a little bit of greed thrown in for good measure.
A reaction to this in the past few years is Giving Tuesday (the Tuesday after Black Friday and the day after Cyber Monday) where people can donate their time and money to good causes.
Many companies like Google and eBay have been instrumental in giving back on this day. Google has worked with online news website Mashable to have a Hangout-a-thon, encouraging companies to donate to charity, and giving non-profit organizations the chance to talk about what they do and how to help them.
Other companies like the Discover Credit Card company have given a 2 percent match for donations from their customers and a generous $50 match for employee donations.
Microsoft, CVS Drugstores and AT&T are among other corporations that have donated.
A good idea is to check these companies to see how you can help them. Donate via your credit card, or see if your purchases on Giving Tuesday can help you to donate.
Share and tweet about Giving Tuesday. The Home Depot has donated huge amounts when this is done via their Twitter and Facebook accounts. Share on your own to encourage giving and ask your friends to share too!
There are many ways we can give back on Giving Tuesday. Look in your pantry and see what you can donate. Food banks are always looking for non-perishable goods (check sell-by dates to make sure they are not too old for consumption).
Since it's the holiday season, also consider holiday foods like nice soups, cake and cookie mixes and holiday decorations or unwrapped gifts.
Food banks always have a shortage of kitchen and bathroom items. They need soap, deodorant, shampoo/conditioner, feminine hygiene products, razors and toilet paper. They also need laundry detergent, kitchen supplies and washing up liquid.
Coffee, tea and hot chocolate are great donations to comfort families in need and keep them warm. Pet food and supplies are also welcomed.
Pets give children and adults love and affection. For the elderly, sometimes their pets are their reason for living but they cannot afford pet food. The loss of a pet can cause anxiety or depression.
Adopt a family. Do a Google search or contact social services in your area to see if there is a family who needs to be "adopted" over the holidays. There are probably more than you can imagine.
You can help provide them with a holiday dinner, or winter coats or holiday gifts. These families would otherwise go without.
The holidays can be very stressful for parents. It's soul-crushing for parents who can't give a single small gift to the children they love. You can make a big difference and make great memories for a family in need.
Does your work hand out gift certificates or are you involved in a company gift swap? By all means use the certificates, vouchers and gift you get but if you don't really need them, they are a fantastic re-gift to charities for those who have no cash to purchase presents like these.
Were you given a gift of something you already have or that's really not your style? Donate it to Goodwill so that somebody can buy it for a fraction of the retail price.
Donate to pet shelters! People made homeless or who cannot afford their pets anymore may have to give them up. Pets are dumped at shelter doors weeks after the holidays when people decide the pet which was a gift isn't right for their family.
Donate dry food, kitten and puppy food, litter, towels, cleaning supplies and gift cards.
Donate your time! You can volunteer at soup kitchens, food pantries, Goodwill or other charity shops, at low-income schools, community centers and shelters. Bring your pet or play a musical instrument at senior centers, adult day cares and nursing homes.
Volunteers of America always need help. They need people to bring food to homes, to visit the abandoned at care homes and simply spend time with those who have no one else.
According to their website, staff and 55,000 volunteers "have supported and empowered America's most vulnerable groups, including veterans, at-risk youth, the frail elderly, men and women returning from prison, homeless individuals and families, people with disabilities, and those recovering from addictions. Our work touches the mind, body, heart — and ultimately the spirit — of those we serve, integrating our deep compassion with highly effective programs and services."
See more here.
Can't figure out where you want to help out? Consider Volunteer Match.org. This great site allows you to check off what groups or advocacies you feel could really use your help, and you are matched up to many services in your area.
You'll be surprised at the number of different groups that need help, from the legal system and children's rights, to the environment, to animal shelters and literacy programs.
You can start here/
Giving should be a part of our lives, part of our lifestyles and not just on certain special days of the year. But at this time of year, when it's all about spending and consumption, Giving Tuesday is a great place to start thinking of others.
Start your life of giving on this day. Knowing that you helped just one person, animal or advocacy group will make such a difference in their lives and give your life a greater purpose.
Sources:
GivingTuesday.org. Case Studies. Corporate Partners.
http://www.givingtuesday.org/wp-content/uploads/2014/06/GivingTuesday-Ca...
Volunteers of America.org. About Us.
http://www.voa.org/about-us
Reviewed December 2, 2014
by Michele Blacksberg RN
Edited by Jody Smith