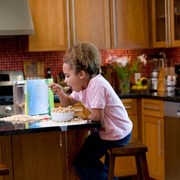 Photo: Getty Images
General Mills. Even the name sounds wholesome. For many of us, it is a reminder of childhood mornings spent eating cereal at the breakfast table.
So why would anyone want to sue this happy wholesome company?
Although General Mills makes many cereals, they also produce snacks like Fruit Roll-Ups, which happen to be the culprit of two lawsuits. The first one, filed last June, was eventually dropped. Curious.
The Center for Science in the Public Interest (CSPI) has decided to go after General Mills once again for their popular product, Fruit Roll-Ups. CSPI believes that by labeling this processed food product as a nutritious snack, General Mills is misleading the consumer and thereby breaking several laws that govern against deceptive business practices through advertising.
According to Steve Gardner, an attorney and litigation director for D.C. CSPI based health advocacy group, "General Mills is giving consumers the false impression that these products are somehow more wholesome, and charging more. It's an elaborate hoax on parents who are trying to do right by their kids."
Contrary to the product's healthy descriptions, "naturally flavored," "low fat," "good source of Vitamin C," and "gluten free," CSPI argues that the product is nothing but a cleverly-marketed candy bar.
When taking a closer look at this snack, we find out that it contains trans fat, added sugar, and artificial food dyes. Furthermore, it lacks a significant amount of real natural fruit and lacks any dietary fiber. This healthy fruit snack suddenly turns into a trick-or-treat giveaway.
I've said this before and I'll say it again, think twice before eating something that your great-grandmother wouldn't recognize!
Many of us empowhered readers are wise to the tricks of marketing campaigns. However, I think that this lawsuit is a perfect reminder that we need to be aware of our food choices and really think twice, remembering to read our food labels. You might really be surprised about the ingredients hiding in your "health foods." Surprised at what you find? Post a comment and give other readers a heads up!
If you're unsure about what you should be reading on the labels to consider a food healthy, watch this short but very informative video about label reading.
And if you're in the mood to laugh it off instead (laughter is sometimes the best medicine) watch a comedian's take on food labels.
Sources:
Bachman, K. (2011, October 14). Fruit Suit: General Mills Faces Deceptive Advertising Lawsuit for Fruit Snacks | Adweek. Adweek – Breaking News in Advertising, Media and Technology. Retrieved October 18, 2011, from
http://www.adweek.com/news/advertising-branding/fruit-suit-general-mills-faces-deceptive-advertising-lawsuit-fruit-snacks-
Mercola. (2011, October 18). General Mills Sued for Marketing Fruit Roll-Ups as Health Food . Vital Votes Health Blog - Natural Health Articles by Dr. Mercola . Retrieved October 18, 2011, from http://blogs.mercola.com/sites/vitalvotes/archive/2011/10/18/general-mills-sued-for-marketing-fruit-rollups-as-health-food.aspx
Hartmann, M. (2011, October 16). General Mills Sued For Marketing Fruit Roll-Ups As Health Food. Jezebel: Celebrity, Sex, Fashion for Women. Without Airbrushing.. Retrieved October 18, 2011, from http://jezebel.com/5850329/general-mills-sued-for-marketing-fruit-roll+ups-as-health-food
Reviewed October 19, 2011
by Michele Blacksberg RN
Edited by Jody Smith