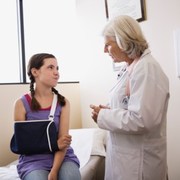 Photo: Getty Images
Getting a second opinion is a good idea if one has any doubt or concern about the best path to follow when diagnosed with a new or serious medical problem. It isn't an indicator that you don't trust your doctor but more to review the options available and decide which is the best choice for you. So how do you get a second opinion?
Getting a second opinion is much the same as finding someone competent for a first opinion. You want to seek a doctor or hospital that has expertise in the area you need treatment but also someone who you are comfortable with. Ask trusted friends or coworkers or contact your local hospital and see if they have a referral service. Check your insurance company's list by medical specialty if you need to stay in network.
Your primary care doctor is often the best choice to suggest someone for a second opinion, but sometimes the doctor who newly diagnosed you may offer names of others to go to. Be sure to ask.
In addition, searching online can provide some options. Larger medical centers overall will have more choices especially if your problem is less common. If your problem is specific, such as a cancer diagnosis, then contact the closest major cancer center to where you live. Traveling distance may be a consideration in selecting a doctor/hospital for your second opinion, so let that guide you.
Next, when you have some names, call the offices to get a feel for how they are run. If any office sounds disorganized or has impolite staff, move on to another choice. If you have to wait weeks for a second opinion, move on, especially if you have a more urgent problem.
You want to know how much experience the doctor providing a second opinion has with your particular problem -- so ask the staff before you make the appointment. Has the doctor cared for many cases like mine? How many surgeries like mine does he perform a year? Is he experienced with working with kids or the elderly? Whatever the issues are, ask.
Be an informed patient. This is actually kind of tough because it involves doing some research without getting overly scared about what you read. It is best to go to medical information websites that mostly give "the facts" and not patient blogs who may or may not have experiences anything like yours.
Stick with reputable websites such as EmpowHER, Webmd, Mayoclinic.com, Cleveland clinics and Medline plus. Information that is repeated in all those websites is what one would typically expect for a given problem. If most sites say side effects for a treatment/surgery are minimal, they likely are.
Information is power, but asking questions can be terrifying. Make a list before you see the doctor for the second opinion and take a friend/relative with you to help. Make sure to carry in hand all your medical records for the doctor to review.
Additionally, there are a few hospital systems that offer online second opinions such as John Hopkins, Cleveland clinics and Partners Online Specialty Consultations, but insurance may not cover the expense. At the same time, you won't have driving and hotel costs.
Online second opinion sources websites:
http://www.hopkinsmedicine.org/second_opinion/
http://my.clevelandclinic.org/nephrology/second_opinion.aspx
https://econsults.partners.org/v2/(rfyaqw55ahq20355qantbffq)/default.aspx
Having any medical problem can be stressful but seeking a second opinion will either provide confirmation on how your case should be treated or, if there is a division of opinion, then you know there is more than one way to approach the problem. Unfortunately, you may need to seek a third opinion if that occurs, or go with the doctor who you have the most confidence in.
Sources:
How to Get a Second Opinion. National Women's Health information Center U.S. Department of Health and Human Services, Office on Women's Health. http://www.womenshealth.gov/publications/our-publications/second-opinion...
Getting a Second Opinion Before Surgery. CENTERS FOR MEDICARE & MEDICAID SERVICES. Retrieved Wed. Nov. 9, 2011 http://www.medicare.gov/publications/pubs/pdf/02173.pdf
Getting a Good Second Opinion. UK HealthCare. Retrieved Wed. Nov. 9, 2011 http://ukhealthcare.uky.edu/publications/healthsmart/second_opinion.htm
Online services let patients seek a second opinion from home by Christy Fricks, USA TODAY. Updated 6/23/2008. Retrieved Wed. Nov. 9, 2011 from http://www.usatoday.com/news/health/2008-06-22-online-second-opinions_N.htm
Michele is an R.N. freelance writer with a special interest in woman's healthcare and quality of care issues. Other articles by Michele are at www.helium.com/users/487540/show_articles
Edited by Malu Banuelos