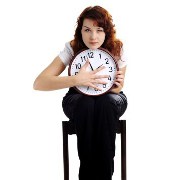 Photo: Getty Images
My New Year's Resolution this year was to enjoy more time with the friends and family. It is so easy to get caught up with work, school, errands, family and aspects of my life that sometimes months go by before I talk to or get together with friends. There is never enough time and socializing can seem unproductive or even stressful when you have a lot going on.
I am learning to let the stress go. I can check things off my "to do" list, but the list will never be finished. Work will always be there but friends can fade away. I will never actually have the time to sip coffee with a neighbor or to meet a friend for a margarita lunch. I will never find the time, but I will make the time.
I feel it is important to stay connected. It is healthy to take a break from your own pressures for an afternoon or an evening and to engage in conversations about other people's lives. Our friends are the people who support us, believe in us, and make life enjoyable. Where would I be without my friends? In a very lonely place.
My husband and I have friends, other couples, whom we used to socialize with frequently, prior to all of us having kids. Even with all of our busy schedules, we still make a point to see each other. Sometimes it is at one of our homes with the children included. And when we are all lucky enough to find a sitter on the same night, we get to treat ourselves to a dinner out.
I love these nights where we get to laugh, enjoy one others company and remember what it felt like to be on a double date. It is energizing and refreshing to catch up with our friends. It is not enough to intend to spend time together. It is not enough to try. Schedule plans and keep them. Make the people that are important to you a priority.
It is healthy to have balance, but takes effort to make it happen. Everyone is busy but take time for the people in your life who are important. Who is precious enough to give your time to?
Edited by Shannon Koehle