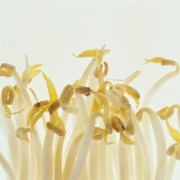 Ryan McVay/Digital Vision/Thinkstock
The mung bean, mungbean or moong bean is a native of the Indian subcontinent and is a popular ingredient in recipes prepared in India, China, Thailand, Korea and Japan.
Sprouts of the mung bean can be germinated by soaking the bean in clean, filtered water and leaving it overnight at room temperature. The beans usually soften by morning. The soaked mung should then be drained of any excess water and rinsed a couple of time to remove impurities if any.
Though they are edible at this stage and can be used directly in recipes, sprouts will break out from the beans after covering the soft and wet mung in the bowl with a lid and leaving it aside for a few hours. After the beans have germinated, they can be stored in the refrigerator where they will remain fresh for a week.
Mung bean sprouts are a valuable food in the vegetarian's diet and are said to be rich in magnesium, phosphorus, potassium, iron and calcium. They have a low caloric content, are low on the glycemic index, and provide complex carbohydrates, all of which are recommended for healthy diets.
As a plant product, the mung bean sprout also delivers a good amount of protein. Every 100 grams of mung sprouts offer about 3 grams of protein (1) and only 15 calories (2).
Mung beans have no cholesterol content in them. Here's a quick, easy and delectable recipe that will encourage you to include it in your diet:
Ingredients:
• 1 cup (125 grams) mung bean sprouts
• 4 washed and chopped snap peas
• 1 bay leaf
• 1 tablespoon of extra virgin olive oil
• Juice of half a fresh lemon
• Few sprigs of green chopped coriander
• 1 small peeled and julienned onion
• ½ teaspoon salt
• ¼ teaspoon freshly ground pepper
Method:
• Warm the extra virgin olive oil in a wide non-stick pan for a minute.
• Add julienned onion and bay leaf and sauté till it turns pink and translucent.
• Lower the flame to medium.
• Add the snap peas and the mung bean sprouts, stir for about another minute.
• Add the lemon, salt and pepper and sauté for another half-minute.
• Turn the flame to low, cover with the pan with a lid and leave for 5 minutes.
• Open the lid and stir till the ingredients look dry.
• Take off the flame and add chopped coriander.
The dish may be served with breads, or with rice or pasta at lunch or dinner.
SOURCES:
1. Mung Bean; Wikipedia, USDA values; January 2012; http://en.wikipedia.org/wiki/Mung_bean
2. Calories in Beans, Mung, Mature Seeds, Sprouted; About.com - Calories Count; January 2012; http://caloriecount.about.com/calories-beans-mung-mature-seeds-sprouted-i11626
Mamta Singh is a published author of the books Migraines for the Informed Woman – Tips From A Sufferer: ISBN: 978-81-291-1517-1 (Publisher: Rupa & Co. URL: http://www.amazon.com/Migraines-Informed-Woman-Tips-Sufferer/dp/8129115174/ref=sr_1_2?ie=UTF8&s=books&qid=1298990756&sr=1-2), Mentor Your Mind – Tested Mantras For The Busy Woman: ISBN: 978-81-207-5973-2 (Publisher: Sterling Publishers; URL: http://www.amazon.com/Mentor-Your-Mind-Tested-Mantras/dp/8120759737/ref=sr_1_1?ie=UTF8&qid=1316063179&sr=8-1) and the upcoming Women's Complete Fitness Guide (Publisher: Hay House India).
She is also a seasoned business, creative and academic writer. She is a certified fitness instructor, personal trainer & sports nutritionist through IFA, Florida USA. Mamta is an NCFE-certified Holistic Health Therapist SAC Dip U.K. She is the lead writer and holds Expert Author status in many well-received health, fitness and nutrition sites.
She runs her own popular blogs on migraines in women and holistic health. Mamta holds a double Master's Degree in Commerce and Business. She is a registered practitioner with the UN recognised Art of Living Foundation.
Please visit www.mamtasingh.com
x-subscriber-info:: 89.211.27.111
cli: 97455573869
imsi: 427012921204198
Reviewed February 28, 2012
by Michele Blacksberg RN
Edited by Jody Smith