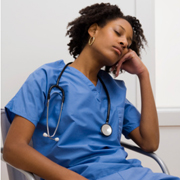 Creatas/Thinkstock
Whether full-time or part-time, the majority of people have a job in order to earn a living. You might grudgingly have to wake up barely past sunrise, but at least you are home in time for dinner, right?
According to statistics released by the U.S. Department of Labor in 2004, "3.2 percent worked night shifts." While this seems like a small fraction of the population, this group of workers has an increased risk of developing health conditions.
In an Associated Press article published in USA Today, it was noted that "higher rates of breast and prostate cancer among women and men whose work day starts after dark" were detected. Similar results have been found in numerous studies.
The reason working overnight, or graveyard, shifts is so dangerous is that it disrupts the body's circadian rhythm.
"Circadian rhythms are physical, mental and behavioral changes that follow a roughly 24-hour cycle, responding primarily to light and darkness in an organism's environment. They are found in most living things, including animals, plants and many tiny microbes," according to the National Institute of General Medical Sciences. This cycle controls hormone levels and melatonin production.
Women, especially, are subject to the dangerous side effects of working at night. "The hormone melatonin, which can suppress tumor development, is normally produced at night," according to an USA Today article. When this cycle is disrupted, the risk of developing cancer is significantly increased.
Men working graveyard shifts are also at an increased risk of developing prostate cancer.
People who alternate between working during the day and at night are at an even greater risk of health conditions, because the body is unable to adjust to a pattern and is not able to rest fully. Sleep is vital in maintaining healthful living. Without it, the body becomes exhausted and the immune system is affected in a negative manner. If our immune systems are not functioning at their best, we are at risk of getting serious health conditions.
The majority of people only think of the superficial disruptions that go along with working at night, such as difficulty having a social life.
Besides the plethora of health conditions that go along with having a reversed circadian rhythm, sleep deprivation can lead to insomnia, which often continues to exist even after you stop working at night.
Interruption in the body's natural rhythms is an often overlooked, but very real problem.
Sources:
USA Today Article:
AP "Night-shift Work Linked to Cancer." USA Today. Gannett, 29 Nov. 2007. Web. 29 June 2012.
http://www.usatoday.com/news/health/2007-11-29-night-shift-cancer_N.htm
National Institute of General Medical Sciences:
"Circadian Rhythms Fact Sheet." - National Institute of General Medical Sciences. National Institute of General Medical Sciences, 30 Jan. 2012. Web. 29 June 2012.
http://www.nigms.nih.gov/Education/Factsheet_CircadianRhythms.htm
"Workers on Flexible and Shift Schedules in May 2004." United States Department of Labor. U.S. Department of Labor, 1 July 2005. Web. 29 June 2012.
https://docs.google.com/a/asu.edu/viewer?a=v&q=cache:JVWTT2DaKNUJ:www.bl...
Reviewed July 2, 2012
by Michele Blacksberg RN
Edited by Jody Smith