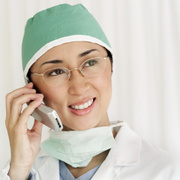 Photo: Getty Images
The smartphone just got smarter. Dr. Peter Bentley from University College London (UCL) has come up with a genius way of listening to and recording your heart beat from your iPhone with the iStethescope. According to Bentley, he had no idea it would become such a popular app, particularly among medical professionals.
It is estimated that 500 users a day are downloading the free app and many doctors claim to have already hung up their conventional stethoscopes in favor of this handy app, which was launched just last week.
Bentley, from the Department of Computer Science at UCL collaborated with a number of cardiologists to devise the app which can listen to heartbeats and heart waves.
The app works by pressing the phone's microphone to the chest, directly onto the skin and without a protective casing, where it can pick up a heartbeat. Users then shake the phone to listen to the last eight seconds of the recording to see a phonocardiograph display as well as a spectrogram. You can then email them to a physician or specialist.
To ensure an accurate reading the microphone has to be placed in a precise spot, just below the left nipple, and it may take a few tries before you are able to pick up a high quality sound.
The app is free but does come with advertising, although an ad-free version called the iStethescope Pro can be purchased from the iPhone store for 99 cents.
"Everybody is very excited about the potential of the adoption of mobile phone technology into the medical workplace," Bentley told one British newspaper.
"Smartphones are incredibly powerful devices packed full of sensors, cameras, high quality microphones with amazing displays," Bentley continued. "They are capable of saving lives, saving money and improving health care in a dramatic fashion – and we carry these massively powerful computers in our pockets."
Bentley is hoping to devise a mobile ultrasound scanner and an app to measure oxygen levels in blood but has to face all the regulations monitoring new mobile medical technology.
Although it is unlikely to entirely replace the traditional cold metal stethoscope- on-the-chest version it does give another dimension to remote doctoring and monitoring. Patients who cannot get to see their physician on a regular basis but need their condition closely watched could well benefit from this new app.
Source: http://www.peterjbentley.com/istethoscopepro.html
Tags: