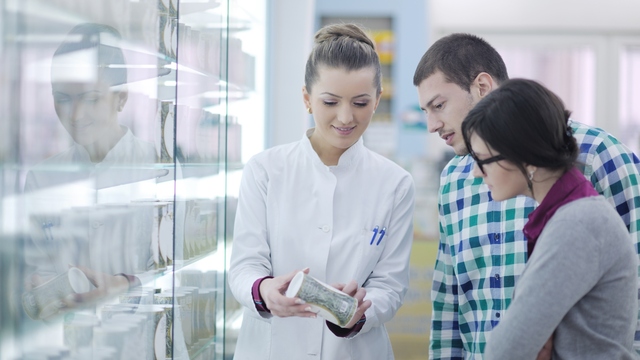 Benis Arapovic/PhotoSpin
National Pharmacist Day is celebrated each year on January 12th to show our appreciation for the contribution pharmacists make to our health care system.
I am the daughter of a pharmacist so this day recognizes the important role my dad had as a health care provider in our community.
Pharmacists often play a behind-the-scenes role in delivering a patient's safe care. Doctors prescribe the medications. However, pharmacists are the ones who really know about what those medications can do, and what interactions or side effects could happen.
This is extremely important if you are on multiple medications and have more than one medical condition needing treatment.
In order to become a pharmacist, a student must complete three to four years of undergraduate pre-professional coursework that includes classes in biology, chemistry, anatomy, physiology, biochemistry and calculus.
They continue on with four more years of professional pharmacy school in order to earn their Doctor of Pharmacy (Pharm.D) degree. After graduating, they must pass an exam in order to become licensed.
Pharmacists work in a variety of health settings such as hospitals, drug stores, nursing homes or clinics.
They provide counseling to patients who come to get their prescriptions filled. They watch to see that the medications are appropriate for the conditions being treated. They also instruct doctors on the side effects, dosages, selection, and interactions of certain medications.
Some pharmacists go on to get extra training or work in areas such as drugs used for chemotherapy, intravenous nutritional support or drugs used to treat psychiatric patients.
Pharmacists can also work in specialty pharmacies that compound drugs uniquely made for each patient that are often used as topical medications instead of given orally.
Some pharmacists work in the area of animal pharmacology and learn how to deliver medications used to treat our pets who cannot tell us if they are having a problem with a drug.
Insurance companies are starting to use the services of pharmacists to help contain costs and for advice on earlier treatment of conditions that may develop into more expensive health problems later on.
You can see that pharmacists must be particularly well educated and knowledgeable to give advice on the taking of medications.
Years ago when my dad had his own drug store, medical students used to come in to chat with him and talk about the diseases they were learning about, and what drugs were available to treat them.
You don't have to wait until next year to thank a pharmacist if you miss doing so today. Next time you see your pharmacist, tell him or her you appreciate them for keeping an eye on our safety.
Sources:
Pharmacist Career, Jobs and Training Information. Career Overview. Retrieved January 11, 2014.
http://www.careeroverview.com/pharmacist-careers.html
National Pharmacist Day. RX times. Retrieved January 11, 2014.
http://www.rxtimes.com/national-pharmacist-day-january-12-2011
Oregon State University. Pharm. D. Frequently Asked Questions. Retrieved January 11, 2014.
http://pharmacy.oregonstate.edu/pharm-d-frequently-asked-questions
Pharm. D. Prerequisites. http://pharmacy.oregonstate.edu/pharm-d-prerequisites
Michele is an R.N. freelance writer with a special interest in woman's healthcare and quality of care issues.
Edited by Jody Smith